India buys radars, radar receivers worth Rs 3,700 crore for IAF
With the induction of these systems, the Indian Air Force's surveillance, detection, tracking and electronic warfare capabilities will be enhanced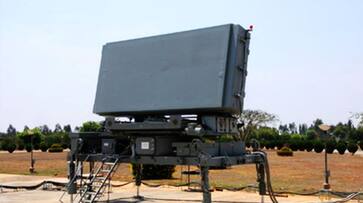 Giving an impetus to the Narendra Modi government's ambitious 'Atmanirbhar Bharat' initiative, the defence ministry on Thursday signed two contracts worth Rs 3,700 crore with the defence public sector undertaking, Bharat Electronics (BEL) for medium-power radars 'Arudhra' and 129 DR-118 radar warning receivers for Indian Air Force. 
With the induction of these systems, the Indian Air Force's surveillance, detection, tracking and electronic warfare capabilities will be enhanced. The DR-118 radar warning receivers will further strengthen the Russian-origin fighter aircraft Sukhoi-30 MKI.
Medium Power Radar (MPR) 'Arudhra' 
The first contract signed was for acquiring indigenously designed and developed by the Defence Research and Development Organisation (DRDO) named 'Arudhra' worth over Rs 2800 crore. Prior to inking the deal, the Indian Air Force had successfully tested it. 
It is a 4D multi-function phased array radar with electronic steering in both azimuth and elevation for surveillance, detection and tracking of aerial targets. The system will have target identification based on interactions with co-located Identification Friend or Foe system. The system has an instrumented range of 400 Km and is able to detect 2sqm RCS targets as far as 300 Km in range with altitude coverage from 100 meters to 30 Km.
 
DR-118 Radar Warning Receivers (RWR)
The ministry signed a second contract at an overall cost of around Rs 950 crore for 129 DR-118 Radar Warning Receivers (RWR). The DR-118 Radar Warning Receiver will considerably enhance the Electronic Warfare (EW) capabilities of Su-30 MKI aircraft. 
As per the defence ministry, the DPSU will source the majority of sub-assemblies and parts from indigenous manufacturers. The project will boost and encourage active participation of Indian Electronics and associated industries, including MSMEs. It will generate employment of two lakh man-days over a period of three and half years.
Last Updated Mar 23, 2023, 7:03 PM IST