Pakistan carrying out proxy war to disturb peace in Kashmir: Gen Bipin Rawat
Gen Bipin Rawat said the adversary will always try to do something to 'make us fall into a trap'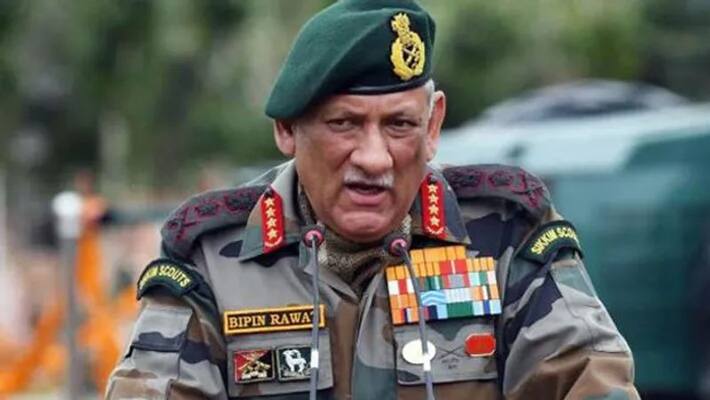 Chief of Defence Staff General Bipin Rawat has accused Pakistan of carrying out a proxy war to disturb the peace and tranquillity in Jammu and Kashmir and also appealed to the migrants to not leave the Valley in the aftermath of the recent spate of terror attacks targeting civilians.
Speaking on the sidelines of the first Ravi Kant Singh Memorial lecture series in Guwahati, organised by the Assam police, Gen Rawat said the adversary will always try to do something to 'make us fall into a trap'. His remark comes after a series of non-Kashmiris were killed in lone-wolf attacks. While blaming Pakistan, General Bipin Rawat said that India's western adversary creates a scenario where people of some communities are being killed and fear is generated at a time when there is peace and tranquillity in the Union Territory.  
On Union Home Minister Amit Shah's visit to Kashmir, the Chief of Defence Staff said that his former's visit will inject confidence among the local people that the security forces on the ground will keep the situation under control. Gen Rawat further said that people do not like the armed forces to become intrusive, but the forces will have to get back into this fold again and carry out activities to ensure the terrorists do not carry out any attacks. Talking about the ongoing situation in the valley, Gen Rawat said that gradually the peace was returning to the Valley, but recent incidents have posed some concerns. 
On the current border standoff with the Chinese troops in eastern Ladakh, the Chief of Defence Staff said that the issues between the two countries were taking a long time to resolve, but they are getting resolved much faster than they used to in the 1980s. calling upon people to have faith in the system, he said that the armed forces will not let the nation down. Delivering his lecture, General Rawat said that China's ambitions for global power are posing an omnipresent danger to the stability of South Asia. He further noted that Beijing's dealings with Myanmar and Bangladesh were also not in India's interests.
Also Read
Meet Indian Army's precision deep strike options near China border
From Bofors to Ultra Light Howitzer: India's firepower along China border
Indian Army personnel near LAC are studying Tibetans
Last Updated Oct 24, 2021, 12:06 PM IST