Fire at army camp in central Siachen glacier kills medical officer, Lt Col among 3 others injured
According to Indian Army officials, the incident occurred at approximately 3:30 am on Wednesday. The soldiers who were injured, experiencing smoke inhalation and second-degree burns, are currently in a stable condition.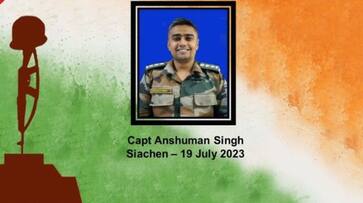 The Indian Army on Wednesday lost a medical officer in a fire caused due to short circuit at a camp in central Siachen glacier in Ladakh. The officer was identified as Captain Anshuman Singh and hailed from Lucknow in Uttar Pradesh. Besides, there are three Indian Army personnel, including a Lt Col officer and three porters who were injured in the fire incident. The injured have been brought to Chandigarh Army Hospital in an army helicopter.
As per Indian Army officials: "The incident took place around 3:30 am on Wednesday. The injured soldiers, who suffered smoke inhalation and second-degree burns, are currently stable."
Son of a retired Subedar, Captain Anshuman got married in February 2023. 
Under the codename Operation Meghdoot, the Indian Army occupied the Siachen Glacier region on April 13, 1984. At the same time, Pakistan Army also wanted to capture this region. The region has strategic military significance as the region does not allow India's two adversaries to meet and carry out any operation. 
It is known as the highest militarised zone in the world where soldiers have to battle frostbite and high winds.
For a long time, New Delhi has been insisting that Islamabad accepts the Actual Ground Position Line (AGPL) as the line which separates the current positions of the Indian Army and Pakistan Army. It is 110 km long and extends from NJ 9842 to Indira Col in the north.
In this region, more soldiers lose their lives to inhospitable climates and difficult terrain than to enemy fire. Over 800 Indian Army personnel have lost their lives in the last 39 years, as per the reports.
Importance of Siachen Glacier
The region is strategically important as it juts between the Saltoro Ridge and the Karakoram Ranges. The Saltoro Ridge overlooks the area of Gilgit-Baltistan of Pakistan-Occupied Kashmir (POK) that is under dispute with Pakistan. 
The glacier is also close to the Karakoram Pass through which the Karakoram Highway passes connecting Gilgit-Baltistan to the Xinjiang province of China. The glacier region is also in proximity to the Shaksgam Valley, which was ceded to China by Pakistan.
Last Updated Jul 20, 2023, 9:27 AM IST