China eyes new naval bases in Africa, South America in next 12 months
Over the next year, China's naval capabilities are projected to strengthen, leading to an anticipated expansion of its presence in international waters. As per assessments, China is likely to actively establish connections with countries possessing strategic locations for naval operations. Girish Linganna reports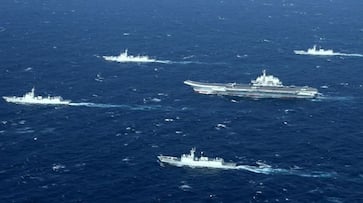 China is strengthening its global naval presence amid increasing tensions with the Western nations. In 2017, China established its first overseas naval base in Djibouti, close to the US military base, Camp Lemonnier. Since then, China has been actively expanding its naval footprint in Africa, Asia, and South America. This expansion is partly supported by initiatives like the Belt and Road Initiative, which helps establish economic partnerships with strategically important countries.
China's Anticipated Expansion
China is highly likely to be granted approval to develop its second naval facility in Africa in the coming year, with the objective of expanding its sphere of influence near critical maritime chokepoints.
China holds significant economic importance as a partner to Equatorial Guinea, with its debt estimated to be 49.7% of the country's GDP. Equatorial Guinea possesses fixed-wing airfields, including ones near the Port of Bata.
Beijing has suggested building a naval base in Beira, Mozambique. This move would enable China to engage in trade with Mozambique, Zambia, and Zimbabwe, enhancing its strategic position.
China has dedicated $1.3 billion to enlarge Tanzania's future Bagamoyo Port, which is in close proximity to the US troops stationed in Manda Bay, Kenya.
Kenya has requested US funding for the expansion of Manda Bay. There are concerns that if the US declines, Kenya might seek support from China instead. The estimated cost for the proposed expansion is around $50 million.
Ream Naval Base
The much-anticipated Ream naval base in Cambodia is poised to become the inaugural naval facility in the Indo-Pacific region, and it is expected to be fully operational within the next 12 months.
China and Cambodia are conducting joint naval exercises near the Ream naval base in Cambodian waters. The Ream naval base upgrades will enhance monitoring capabilities and strengthen its strategic importance for China in Southeast Asia.
As per BlackSky GEOINT, which provides on-demand and high-frequency monitoring of the most strategic and critical activities, locations, and economic assets, the Ream pier extends into sufficiently deep waters to accommodate aircraft carriers.
China is actively setting up naval stations in Gwadar, Pakistan, and Mauritius, in addition to its bases in Djibouti and Cambodia. These new stations will provide China with a strong regional presence.
China's Antarctic Naval Partnerships
It is highly probable that China will persistently seek strategic naval collaborations, particularly with Argentina and Chile, in the Antarctic region over the next 12 month
China aims to create a naval base in Ushuaia, Argentina, with the purpose of intercepting regional communications in South America and gaining a strategic vantage point over the northernmost tip of Antarctica.
The US provided 32 F-16 fighter jets to the Argentinian Air Force in response to China's offer of 12 JF-17 Thunder fighters. However, the Biden administration's decision to train Ukrainian fighters on the F-16s might lead to a change in the original agreement with Argentina, potentially allowing the JF-17 Thunders to be sent instead.
Starting from 2013, the Belt and Road Initiative has provided China with access to seaports from Mexico to Argentina, aiming to strengthen economic and diplomatic relationships. China is actively pursuing the use of the Punta Arenas port in Chile, aiming to gain strategic access to Antarctica.
China's presence in international waters is expected to expand as its naval capabilities continue to grow. According to assessments, China will actively engage with nations possessing strategic locations for naval operations in the next 12 months.
Last Updated Jul 20, 2023, 7:13 PM IST