OnePlus Open foldable smartphone's first look video OUT
If rumors have been correct, then OnePlus will launch its first ever foldable smartphone, the Open, at some point this month. The company has officially started its teaser / hype-building campaign for the upcoming device. Check out the first look.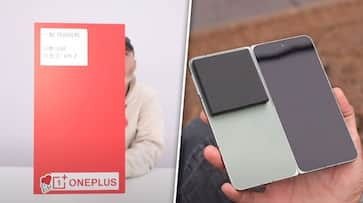 OnePlus provides an official peek at an early version of the OnePlus Open, showcasing the company's redesigned foldable hinge construction and "gapless" design. The company's first foldable phone under the OnePlus name will be the OnePlus Open. The business has past foldable experience with its Oppo portfolio, namely with the Oppo Find N and N2, but nothing under the flagship banner as of yet.
Unbox Therapy is handed a very early version of the OnePlus Open during a sit-down interview, packed with strategically placed paper to obscure the camera's view and other physical features that would reveal any closely-guarded information. Pete Lau discusses the specifics of the new technology and what it means on the opposite end of the spectrum.
Pete instructs Lew to close the Open in the video while tucking a piece of paper inside. Pete Lau asserts that the gapless architecture is what enables that. It appears more like a case of powerful magnets spread around the outside margins of the inner display to an observer from the outside. Lau said his company is "bringing the best phone to the race", despite not entering said foldable race among the first. 
In any case, the video shows the early build of OnePlus Open from a few key angles. Both closed and open, the build looks sharp, even though it's clearly unfinished.  Although the "gapless" design is evident, the inner screen bezels appear to be fairly thick and raised much higher than on other foldables that we are accustomed to. If this is incorporated into the final design, it should be interesting to see.
Just two weeks after Google's hardware launch on October 4, the OnePlus Open is anticipated to be unveiled on October 19. In OnePlus's first foldable, we anticipate some premium features like a Snapdragon 8 Gen 2 and an outstanding camera array.
Last Updated Oct 3, 2023, 11:53 AM IST