Flipkart sale 2022: Special offers on Motorola Edge 30 Ultra, Edge 30 Fusion, Moto G62, others
Motorola has revealed discounts across its entire range of smartphones during the upcoming Flipkart Big Billion Days sale that kickstarts from September 23. Here is everything you need to know about the offers on gadgets.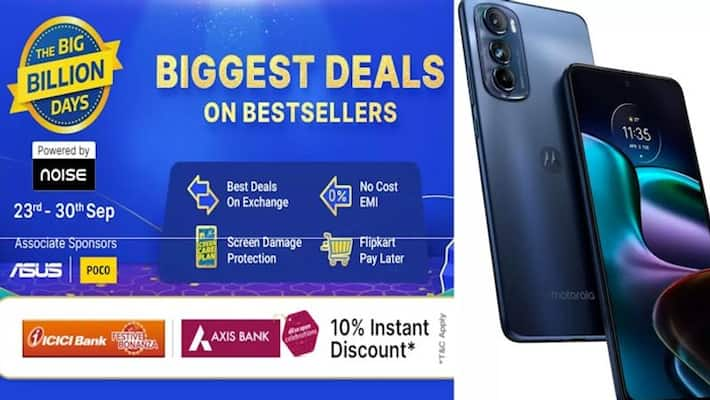 After Samsung announced price reductions, Motorola, which is owned by Lenovo, has now disclosed discounts on all of its devices for the forthcoming Flipkart Big Billion Days sale, which begins on September 23. The promotions will be accessible on all Motorola handsets, including the Moto E series, G series, and Motorola Edge series.
Purchasers of Motorola phones will also be able to benefit from further reductions. Users of Axis Bank or ICICI Bank credit cards can receive a rebate of up to Rs 3,000 from the business.
Moto Edge series
After taking into account bank incentives during the sale, the prices for the Moto Edge 30 Ultra, Moto Edge 30 Fusion, and Motorola Edge 30 Pro will be Rs 51,999, Rs 36,999, and Rs 39,999, respectively.
Moto E series
The Moto E40, which will be on sale for Rs 8099, has a 6.5-inch, 90Hz, IPS LCD and a 48MP triple camera configuration. The smartphone has a UNISOC T700 processor inside and a 5000mAh battery inside.
Moto G series
Motorola's G62, part of the Moto G series, will cost Rs 14,499 when bank promotions are included. On Flipkart, the phone is now advertised for Rs 15,999. The Moto G62, one of the most well-known 5G smartphones, features an Android 12.0-powered dual-core processor, a 90Hz FHD+ display, and dual speakers with Dolby Atmos. The 8GB + 128GB version will cost Rs 17,999, but with bank discounts, it will only cost Rs 16,499.
During the promotion, the Moto G82 will cost Rs 18,499 rather than Rs 19,999. After factoring in bank discounts, the price of the Moto G52 in the 6GB + 128GB storage configuration would drop to Rs 14,499. When bank incentives are taken into account, the price of the Moto G32 in 4GB + 64GB drops to Rs 9,899.
Last Updated Sep 21, 2022, 4:22 PM IST