Did you know Apple 'Scary Fast' event was shot on iPhone 15 Pro Max?
Apple just hosted its Scary Fast event introducing the latest MacBook Pro models. The event was shot on the iPhone 15 Pro Max, exhibiting the brilliance of its camera. Apple announced the new MacBooks and iMac during the event.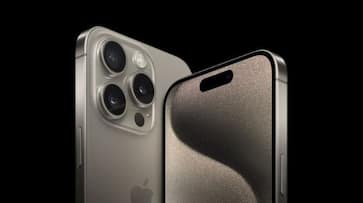 During its Wonderlust event only last month, Apple unveiled the iPhone 15 Pro Max to the world. The 48-megapixel main sensor on the phone attracted a lot of attention during the ceremony. Additionally, Apple recently demonstrated the effectiveness of the iPhone 15 Pro Max camera at its Scary Fast event. How, you wonder? Well, you would know if you watched the entire incident. 
Following Tim Cook's thank you to the audience at the conclusion of Apple's Scary Fast event, a short message was shown. The message stated that a Mac was used for editing after the entire event was captured on an iPhone 15 Pro Max.
"This event was shot on iPhone and edited on Mac. All presenters, locations and drone footage shot on iPhone 15 Pro Max," the message read.
As a result, the iPhone 15 Pro Max's camera is so good that it can capture a whole event. During the Apple Scary Fast event, some amazing gaming footage and crisp, clear images were displayed.The video of the event is available in 2160p resolution on YouTube. Thus, the event surely serves as a reminder that the the iPhone 15 Pro Max can be used to shoot some great content.
The Grade 5 titanium body of the iPhone 15 Pro claims to increase the phone's durability while also reducing its weight. The phone has the "thinnest borders ever" on an iPhone 6.1-inch Super Retina XDR display. For an extra degree of security, there is a ceramic shield on the front. The A17 Pro CPU powers the phone. Regarding the camera, the iPhone 15 Pro has a 48-megapixel primary camera that can capture images with a greater resolution. 
Additionally, the camera enables the user to select a new default focal length and alternate between the three widely used lens lengths of 24 mm, 28 mm, and 35 mm. The Pro Max variant has a 5x optical zoom, whereas the iPhone 15 Pro has a large 3x Telephoto camera.
Apple unveiled three new chipsets—the M3, M3 Pro, and M3 Max—during the Scary Fast presentation. The new MacBook Pro models were also announced, powered by these chipsets. 
Last Updated Oct 31, 2023, 4:02 PM IST