Decoding why Apple iPhone 15 Pro series is facing overheating issue
iPhone 15 Pro series: Analyst Ming-Chi Kuo has written a detailed post this week which suggests that Apple has made the iPhone 15 Pro Max lighter than previous models, which seems to have come at a cost.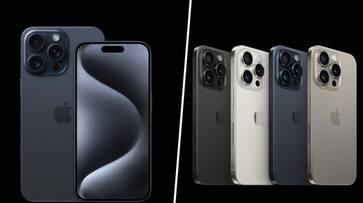 Users of the iPhone 15 Pro Max have expressed serious heating problems. When charging or even using the iPhone heavily, they have observed an increase in temperature. Ideally, you might attribute the issue to one of the iOS version's faults, while some have even questioned Apple's 3nm process A17 Pro CPU that it includes in its Pro models. But the absence of an internal cooling system is still another potential factor.
That's accurate; according to a thorough article this week by analyst Ming-Chi Kuo, Apple made the iPhone 15 Pro Max lighter than earlier models, but it appears to have cost something.
The components on the iPhone 15 Pro Max have shifted due to significant adjustments Apple has made to the device's architecture. The new A17 Pro chipset is functioning at a level where the Pro Max plainly needs a cooling chamber, which is already becoming a problem for those purchasing the most expensive iPhone this year. However, it has allowed the business make the Pro Max lighter. For the new iPhones, Apple doesn't even offer rapid charging, so it's not ideal for a gadget to heat up at 20W.
Additionally, the iPhone 15 Pro model's usage of titanium has made it more difficult for the heat to disperse. He did add that Apple will have to think about releasing a software update to lessen the impact of the heating, but it is probably not the only option available. The A17 Pro chip's performance level may need to be throttled by Apple in order to prevent heating problems, which will unavoidably cause the battery life of iPhones to degrade more quickly than usual.
This year, the new camera features of the iPhone 15 Pro Max have generated enormous demand for Apple. However, concerns like heating can make customers to think twice about purchasing the pricey iPhone, which would be bad for business.
It would be fascinating to see how Apple responds to these worries and how quickly it is able to alleviate the issue before it blows up internationally because Kuo has a strong track record with Apple releases.
Last Updated Sep 28, 2023, 2:01 PM IST