3 best offers on Apple iPhone 14 and iPhone 13 you can't miss
The launch of the iPhone 15 has led to unprecedented discounts on older models—the iPhone 13 and 14—across e-commerce platforms such as Flipkart and Amazon. Check out the best deals here.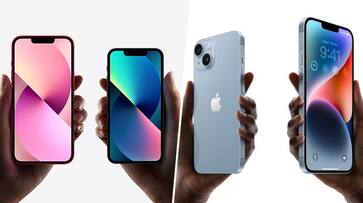 Prices for the iPhone 13 and iPhone 14 have decreased as a result of the release of the iPhone 15. In order to increase the appeal of the new iPhone to customers, Apple frequently lowers the pricing of earlier versions. The cost of the iPhone 13 and the iPhone 14 has been decreased on e-commerce sites like Amazon and Flipkart in addition to officially.
1. iPhone 13 on Flipkart
The 128GB storage model of the iPhone 13 is currently merely Rs 52,499 on Flipkart, where it has generated a lot of buzz. The pricing for this iPhone model is now the lowest it has ever been. Customers who purchase it on Flipkart receive a significant discount of Rs 27,401 off the item's original price of Rs 79,900.
It's interesting to note that Apple just lowered the cost of the iPhone 13 to Rs 59,900 in India. Following a previous reduction last year when it was priced at Rs 69,900, this price fall represents a considerable decrease from its initial cost of Rs 79,900. Customers will get an even better offer on Flipkart, though, since this well-known e-commerce site has a pricing that is far cheaper.
2. iPhone 14 on Amazon & Flipkart
On Amazon, the cost of the iPhone 14 has been lowered to Rs 62,999. Notably, the iPhone 14 is offered on the company's official website for Rs 69,999. The price listed on Amazon excludes any bank or exchange incentives. You may save up to Rs 37,000 on the new phone if you want to trade in your old one for the new iPhone 14.
The iPhone 14 is also available on Flipkart for Rs 64,999. Here, Amazon is providing a better phone bargain. However, if you want to purchase the new iPhone, you can receive a 5% discount if you have an Axis card.
3. iPhone 13 & iPhone 14 on iStore
The iPhone 14 is available at a fair price if you purchase it through the India iStore, despite fantastic bargains being offered on the device on Amazon and Flipkart. You can receive an extra bonus of Rs 6000 if you trade in your previous iPhone 12 and have a discount of Rs 20,000.
Similar to this, the iPhone 13 is available for Rs 59,900. The phone is available for an effective price of Rs 33,390, which includes the exchange incentive of Rs 6000 and the exchange price of Rs 20,000.
Last Updated Sep 27, 2023, 12:15 PM IST