Yuvraj Singh's wife actress Hazel Keech shares story on postpartum hair loss; donates hair for cancer patients
Indian cricketer Yuvraj Singh's wife, actress Hazel Keech, shared her postpartum hair loss journey and the decision to donate her hair for cancer patients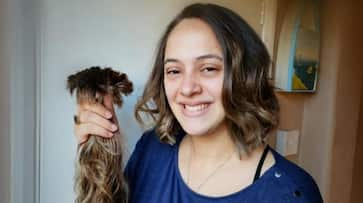 Yuvraj Singh, the renowned Indian cricketer, and his wife, former actress Hazel Keech, have been proudly embracing their roles as parents to two beautiful children. Their journey as parents began with the birth of their son, Orion, in January 2022. In August of the same year, they celebrated another joyous occasion as Hazel Keech gave birth to their second child, a daughter named Aura. Recently, the former actress took to her official Instagram handle to share a series of pictures and videos alongside a heartfelt post in which she reflected on her postpartum journey.
Hazel Keech openly discussed the postpartum issues she encountered, particularly the challenging experience of extreme hair fall. She also used this platform to explain her decision to donate her hair and the motivations behind this compassionate act.
The actress expressed her curiosity about why many new mothers opt for shorter haircuts, a decision she didn't initially understand. However, Hazel later learned about postpartum hair loss, which can be quite disheartening, especially when adjusting to the demands of caring for newborns, who seem to have a knack for needing your attention at the most inconvenient moments.
Hazel Keech's Instagram post read: "I always noticed new mums cut their hair short, and I never understood why. I later learned about postpartum hair fall, which must suck when you're adjusting to a new reality of tiny humans who, like a motion sensor, cry or poop the moment you step into the bathroom."
She went on to explain her decision to donate her hair and the inspiration behind it. "I had decided that when I cut my hair short again, I'd like to donate my hair to be made into wigs for people going through cancer treatments. My husband shared what it feels like to watch all his hair, eyelashes, and eyebrows fall out while he was getting chemotherapy and how it really affects your self-esteem," added Hazel Keech, revealing that her husband, Yuvraj Singh, played a significant role in influencing her decision.
ALSO READ: India Vs Pakistan: Arijit Singh requests Anushka Sharma for a snap; 'Chakda Express' actress obliges happily
For those unfamiliar with their love story, Yuvraj Singh and Hazel Keech first crossed paths at a party, introduced to each other by mutual friends. Initially, Keech turned down Singh's request for a coffee date. However, over three years later, after Yuvraj had returned from his cancer treatment, she accepted his friend request on social media. The couple got engaged on Diwali in 2015 and eventually tied the knot in November 2016, celebrating their love story with a beautiful wedding ceremony.
Last Updated Oct 15, 2023, 11:53 AM IST