Who is Vinayakan? Rajinikanth's Jailer villain arrested in Kerala; read details
Malayalam actor Vinayakan, who played the villain in Rajinikanth's hit film 'Jailer', was arrested in Kerala for allegedly causing a ruckus in a drunken state at a public place.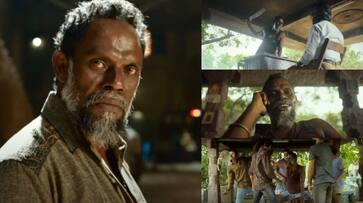 Vinayakan, who portrayed the villain in Rajinikanth's 'Jailer,' was arrested by Ernakulam North police in Kochi on Tuesday (Oct 24) for reportedly causing a commotion at the station. According to police reports, he was transferred to Ernakulam General Hospital and his medical check was finished. The actor was arrested for allegations of disruptive behaviour in a public place while intoxicated and impeding police station operations. According to reports, he was sent to the station for interrogation after receiving allegations that he had caused a commotion at his flat.
Vinayakan was charged with hindering the station's activities after the incident occurred in the context of a family problem. Vinayakan was later released on bail, officers at Ernakulam North police station said, that a case was filed against him for a ruckus and uttering obscenities at the police
Who is Vinayakan?
Vinayakan is a famous Mollywood actor, former dancer, and composer best known for his performances in Malayalam and Tamil language films. He began his career with a small appearance in the 1995 film Maanthrikam.
Vinayakan received the Kerala State Film Award for Best Actor for his performance as Ganga in Rajiv Ravi's Kammatipaadam. Edakochi Dude in Aadu - Oru Bheegara Jeevi Aanu and its sequel Aadu 2, as well as Ayyappan in Lijo Jose Pellissery's Ee.Ma.Yau, are among his significant performances. He rose to prominence for his performance as the antagonist Varman in Nelson Dilipkumar's Tamil-language action movie Jailer (2023), in which he co-starred alongside Rajinikanth. 
Why did Vinayakan get arrested? 
Vinayakan, who was recently seen in Rajinikanth's Jailer, got a medical checkup to examine his condition and was apparently found to be under the effect of alcohol, resulting in a chaotic scene. Law enforcement personnel acknowledged that the arrest was made as a consequence of his disruptive behaviour, which disturbed the usual operation of the station. According to the authorities, the actor raised a scene at the police station and verbally insulted the officers while under the influence of alcohol. In reaction to the interruption, the police immediately filed a complaint against Vinayakan, describing his conduct as causing the station's operations to be disrupted. This legal process resulted in his formal arrest.
Vinayakan was then sent to the General Hospital for a medical checkup. He was initially brought to the police owing to noise complaints from his flat. However, when he arrived at the station, he proceeded to cause havoc.
Last Updated Oct 25, 2023, 8:26 AM IST