When Priyanka Chopra, Nick Jonas's kiss left BTS member Jimin shy (Watch Here)
At the Billboard Music Awards 2019 BTS member Jimin was embarrassed seeing the PDA between Nick Jonas and Priyanka Chopra Jonas; take a look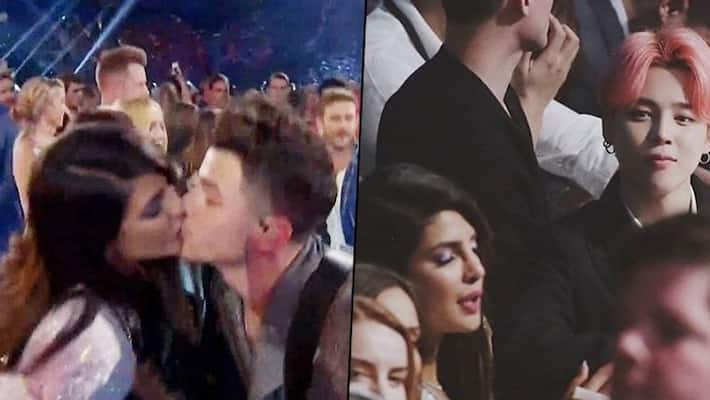 Priyanka Chopra and Nick Jonas never shy to showing their love for each other on social media or in public. We have seen them kissing, hugging, getting intimate in many live concerts and on their social media posts.
Nick and Priyanka's fans love to see their PDA, but did you know there was one famous celeb who got embarrassed and shy to see the couple kissing.
At the Billboard Music Awards 2019, Priyanka and Nick's intimate moment had once left BTS member Jimin red-faced and embarrassed. 
A video is going viral where we can see BTS member RM, Jimin, Jin, Jungkoon, V, J Hope, and Suga were enjoying Jonas Brothers' performance. When Nick and his brothers Kevin, Joe Jonas came into the audience as a part of the act. And while singing, Nick kissed Priyanka, left Jimin Blushing. Take a look.
Jimin was standing right opposite Priyanka, and in the video, we can see it left him shy.
Last Updated Jul 14, 2021, 12:10 PM IST