When Justin Bieber indirectly confessed to not being over Selena Gomez after marrying Hailey (THROWBACK)
Justin Bieber and Hailey Baldwin have been open about their struggles, especially in the first year of their marriage. It is what the Sorry hitmaker has said about the same. Justin Bieber indirectly also confessed about not being completely out of love with his ex Selena Gomez even after marriage to Hailey Baldwin.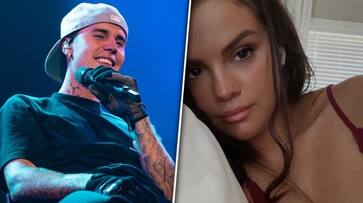 Justin Bieber and Hailey Baldwin's whirlwind romance, engagement, and marriage back in 2018 raised a lot of eyebrows. The media glare and questions regarding their relationship still float around the Internet as netizens refuse to believe their wedding is anything but a forced bargain. Even though the couple looks happy now, the drama between the two and Justin's ex, pop star Selena Gomez, does not seem to rest even five years down the line.
ALSO READ: Kushi star Vijay Deverakonda to donate Rs 1 crore to 100 families; read details (Video)
Speculations about their relationship are still a hot topic. The online hate train moves along to date. Justin and Selena dated on and off from 2010 to 2018 and were each other's first true love. Since they shared so much of their teenage life together romantically, there's bound to be a connection and trauma attached to each other, especially after the way things ended. Here's what the Baby singer once said about his earlier days of marriage with Hailey.
During a conversation with a renowned and prominent global entertainment magazine back in 2021, Justin revealed how hard it was for him and Hailey to navigate the early days of their marriage, especially the first year, which he described as challenging. While explaining the same, he shared, "There was a lot, going back to the trauma stuff. There was just a lack of trust. There were all these things you do not want to admit to the person you are with because it's scary. You do not want to scare them off by saying, I am scared."
The 29-year-old revealed that he spent the first year of their marriage "on eggshells" as they navigated their relationship and marriage. At some point in his life, Justin started to believe in things. Now, the duo have managed to create a beautiful foundation of marriage. He added, "We're just creating these moments for us as a couple, as a family, that we're building these memories. And it's beautiful that we have that to look forward to."
ALSO READ: Sanjay Dutt recalls funny memory of Subhash Ghai making him wear 'ghagra' in Khalnayak
Last Updated Sep 5, 2023, 11:13 AM IST