Sanjay Dutt recalls funny memory of Subhash Ghai making him wear 'ghagra' in Khalnayak
As the cult Indian film Khalnayak marked 30 years since its release, in a recent media interaction, Sanjay Dutt recalled a funny story and incident taking back to the time when filmmaker Subhash Ghai made him wear a 'ghagra' in the iconic film Khalnayak and his first reaction to that.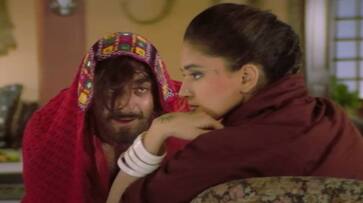 The iconic film Khalnayak, starring Sanjay Dutt, Madhuri Dixit, and Jackie Shroff, is making a big comeback in theatres on September 5th, 2023. To mark this special event, the entire cast and crew of the film had a get-together today to celebrate the special occasion. There was also a premiere night event in the city, attended by director Subhash Ghai, Sanjay Dutt, Jackie Shroff, Alka Yagnik, and Ila Arun. During the event, Sanjay Dutt recalled how Subhash Ghai made him wear a Ghagra Choli in the film.
ALSO READ: Kushi star Vijay Deverakonda to donate Rs 1 crore to 100 families; read details (Video)
During the premiere night event of the re-release of Khalnayak, as it marked 30 years, Sanjay Dutt recalls how Subhash Ghai made him wear a Ghagra Choli in the male version of the popular song Choli Ke Peeche Kya Hai, which also featured Madhuri Dixit from the film. He said, "Main set pe aaya toh vohi bandook pehni thi. Toh Subhash ji ne bola isko ghagra choli pehnao. Main shock main tha, maine bola Sir aap kya kar rahe ho? Unhone bola, Nahi tu pehen ke aa. Maine bola Ghagra choli kyu pehen ke aaun? Unhone bola Kyuki tu choli ke peeche rahega. (I came to the set. Subhash said, Make him wear the blouse and skirt. I was shocked. I asked him, Sir, what are you doing? He told me to go and wear it. I asked, Why should I wear the skirt and blouse? He said, You will be under the blouse)."
To mark 30 years of Khalnayak, Sanjay Dutt penned a heartwarming note with a video on his official Instagram account that read, "I want to congratulate Subhashji. One of the greatest directors of the Indian screen, Jackie Dada, for being the perfect Ram and Madhuri for being Ganga, and the entire cast and crew of #Khalnayak, I am grateful and proud to be a part of such an iconic film and cherish every moment of it. 30 years, and it looks like a film made yesterday. Thank you, Subhashji and Mukta Arts, for making this film and me being a part of it. Thank you once again. And thank you to all the fans whose love has made Khalnayak a classic."
ALSO READ: Joe Jonas shares THIS sexy photo with Sophie Turner to end divorce rumours
Last Updated Sep 5, 2023, 10:44 AM IST