What does Superstar Rajinikanth envision for India?
In the show Man vs Wild with Bear Grylls, which was telecast on March 23 at 8pm on Discovery Channel, Tamil superstar Rajinikanth embarked on an adventurous journey through Bandipur's wilderness in Karnataka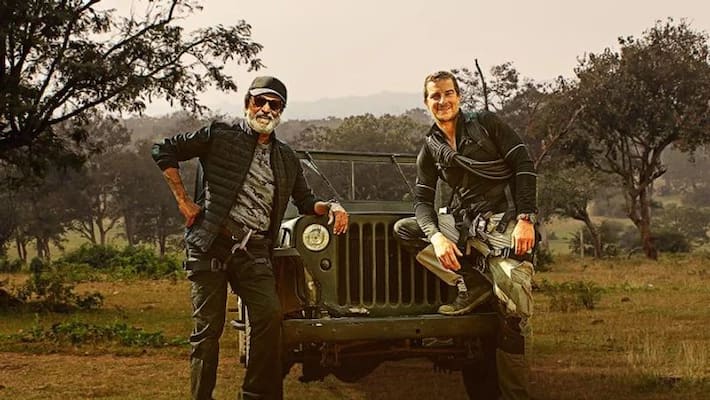 Bengaluru: We all know that Tamil superstar Rajinikanth has been prepping to make inroads into the political corridors of Tamil Nadu. But do we know what this actor-politician's vision for India is? 
In the show Man vs Wild with Bear Grylls, the superstar embarked on an adventurous journey, where he spoke about his love for the country, environment and more. The show was telecast on Discovery Channel on March 23 at 8pm.
Bear Grylls asked Rajinikanth what he wishes for India. The actor said, "I want to remove poverty and unemployment." Was it the politician in him talking? We'll have to perhaps wait till Tamil Nadu elections in 2021 to find out. 
Rajinikanth also spoke of how politicians must take the issue of water seriously. He said, "Billions of people die due to water-borne diseases as they fail to get clean, drinking water."
Thalaivar, as he is fondly called, ended the show by talking about his love for the country, while declaring how proud he is of his mother land. "There are many countries dedicated to Islam, Christianity and Buddhism, there is only one country for Hinduism and that is India, which is one that embraces all religions with respect. India stands for unity in diversity."
While Rajinikanth performed those stunts for real, right from sliding through the rope, wading through the water and changing the punctured tyre for the first time, Bear Grylls learnt to flip the glasses in true Rajini style and perhaps learnt a bit of Tamil too. 
Last Updated Mar 24, 2020, 12:11 AM IST