Watch Vidya Balan's latest 'Main Sherni' video which includes women CEOs, founders of top corporates
Vidya Balan's 'Main Sherni' track incorporates real 'shernis' in her recent social media post.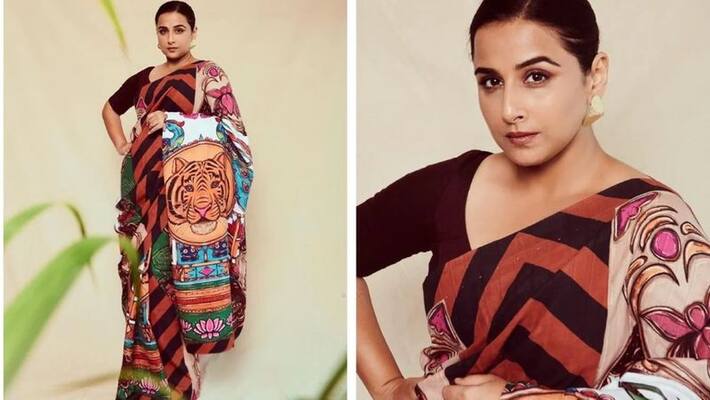 In her recent post on social media, Vidya Balan dedicates the 'Main Sherni' track to corporate Shernis, who also pull through with household responsibilities!
Amazon Prime Video's recently released film Sherni starring Vidya Balan has been the most-awaited release owing to an unconventional subject, stellar cast and an intriguing trailer. 
Audiences and fans were treated to the music video 'Main Sherni' very recently and the response to the track has been amazing.
With some catchy, rip-roaring lyrics, the song 'Main Sherni' was received well by audiences, and Shernis from different walks of life have come together for the film. 
Vidya took to her social media to share a video of some real-life Shernis who are killing it at their corporate jobs and balancing other responsibilities with the same strength. She shared, "Dedicated to all the corporate Shernis out there .. This one is for you!"
Besides the thick vegetation of the forests, one doesn't need to look far to spot a Sherni in the urban jungle. In the video, some fearless Indian Corporate leaders across a wide cross-section of various industries have been highlighted. Breaking mould the Sherni stands tall, alert and vigil knowing the lay of the land. The nation is in safe hands.
Each video sees the Sherni in everyone's life. Internet fames Sumukhi Suresh, Ruhee Dosani, Faby Make Up Artist and Bruised Passports took to their social media using the 'Main Sherni' track to flaunt the Shernis in their life. Owing to their strength, will, and grit, this track has struck the right chord with everyone, especially women.
Starring Vidya Balan in the lead, other versatile artists like Sharat Saxena, Mukul Chadha, Vijay Raaz, Ila Arun, Brijendra Kala and Neeraj Kabi will be seen in pivotal roles. Produced by T-Series & Abundantia Entertainment, the Amazon Original Movie is directed by the award-winning filmmaker Amit Masurkar known for the critically-acclaimed film 'Newton'.
Catch the roaring film 'Sherni' on Amazon Prime Video to meet with your inner Sherni, NOW!
Last Updated Jun 18, 2021, 1:01 PM IST