Watch: Balamuralikrishna's gift to Malayalam film
M Balamuralikrishna left behind a treasure trove of Malayalam film songs, all of them are evergreen hits.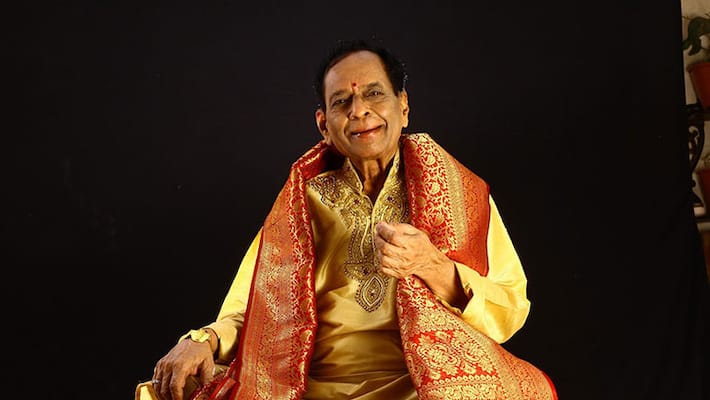 When emperor Akbar expressed his wish to make Tansen's (one of the nine jewels of his court) guru Swami Haridas his courtier, the disciple  told the emperor that his teacher wouldn't sing for a king.
Why not? the emperor quipped.
"Because he's a musician of a much higher court," Tansen fabled to have replied.
***
M Balamuralikrishna was undoubtedly a maestro who belonged to a much higher court. Yet, he was ready to come down to earth and sing for us the lesser beings.
Even though he relentlessly toured the world with his music, winning hearts wherever he went, he spared time for Malayalam films and left a few gems behind.
Balamuralikrishna sung numerous songs, starting from 1965 when the doyans like poet Vayalar Ramavarma, P Bhaskaran and legendary singer-composer MS Baburaj and MB Sreenivasan reigned the golden era of the Malayalam film music.
If 'Laalee laalee' went onto become a classic, P Bhaskaran and composer P S Divakar gifted 'Thalolam Unni Thalolam', an equally popular lullaby to Malayalam in the film Devatha 1965 and P Leela and Balamuralikrishna breathed life into it.
 Here are a few songs from the treasure trove:
Saptha swara sudha.. (Film: Anarkhali, 1966, PB Sreenivas, Balamuralikrishna, Lyrics: Vayalar,  Composer:MS Baburaj)
Ya Ramitha vanamali....(Film: Ganam, 1982, Lyrics: Jayadevar,  Composer: V Dakshinamoorthi)
Raghuvara Nandana (Film: Ente Mohangal Poovaninju, 1982,  Composer: V Dakshinamoorthi)
 Jamuna Kinaare... (Film: Swathithirunal, 1987, Balamuralikrishna, Lyrics: Swathithirunal,  Composer:MB Sreenivasan)
Dhwaniprasadam (Film: Bharatham, 1991, Singers: Balamuralikrishna, Chithra, Yesudas. Lyrics: Kaithapram Damodaran Composer: Raveendran)
Last Updated Mar 31, 2018, 6:54 PM IST