Viral pic! Aishwarya Rai and Jaya Bachchan wearing the same saree
An old picture of Aishwarya Rai wearing the same saree as Jaya Bachchan has gone viral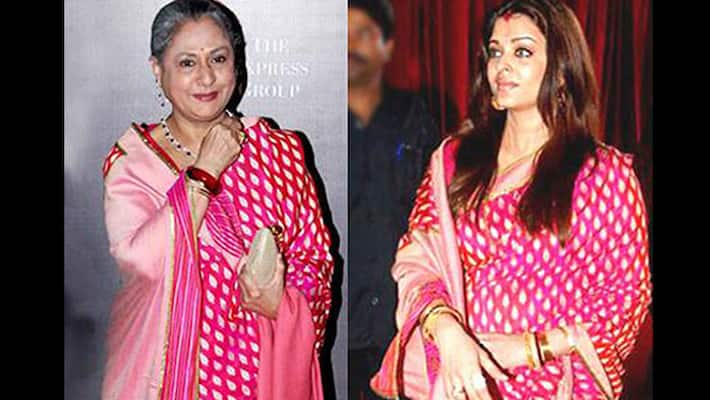 We recently stumbled upon an old but viral picture of Aishwarya Rai and her mother-in-law Jaya Bachchan wearing the same saree. The Bachchan bahu and their love for saree is not a secret but Twitterati sure seemed amused on finding the picture. The picture has been re-tweeted a number of times and has now gone viral.
Jaya Bachchan was first spotted wearing this saree at an awards show in 2010. In the year 2011, Aishwarya was clicked wearing the same saree and looking even more gorgeous. And once again, in 2014, we spotted Jaya Bachchan wearing the same saree.
This is not the first time that Aishwarya has been clicked wearing an outfit that has worn by a celebrity before. A couple of years ago, the Bachchan bahu was spotted wearing the same Roberto Cavalli gown at the Cannes Film Festival which TV presenter Kristin Chenoweth wore at the Academy Awards the same year.
We think both Aishwarya Rai and Jaya Bachchan look like a million bucks in this radiant pink saree. What do you think?
Last Updated Mar 30, 2022, 8:58 PM IST