Vicky Kaushal grooves to his wife Katrina Kaif's 'Dhoom 3' hit song 'Kamli' [WATCH]
Vicky Kaushal's viral dance video to wife Katrina Kaif's song 'Kamli' showcases his love for dancing. The actor's energetic moves on social media often captivate audiences, and his desire to share screen space with Katrina is evident.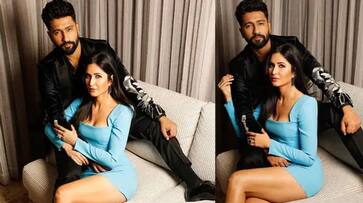 Vicky Kaushal, known for his stellar acting skills, has proven time and again that he's not just a versatile actor but also a dance enthusiast. Social media often witnesses his infectious energy as he grooves to popular Bollywood and Punjabi songs, and his recent video has taken the internet by storm. In this latest viral video, the charismatic actor can be seen dancing with unabated enthusiasm to none other than his wife, Katrina Kaif's, hit song 'Kamli' from the 2013 blockbuster, Dhoom 3.
The video captures Vicky's joyous dance moves as he lets loose on the dance floor, and it's evident that he has a deep love for dancing. But 'Kamli' isn't the only track that had him moving; the video showcases him grooving to other popular songs like 'Chaiyya Chaiyya,' 'Sauda Khara Khara,' and 'Oo Antava.' While the precise occasion of this dance extravaganza remains undisclosed, it appears to be from a recent party where Vicky couldn't resist showcasing his dancing prowess.
Vicky's affection for dancing to his wife Katrina's chartbusters is well-documented. At the IIFA 2023 awards, he stole the show by dancing to the tunes of 'Chikni Chameli' and 'Sheila Ki Jawani' alongside the ever-entertaining Rakhi Sawant. This delightful performance naturally went viral on social media, earning him praise for his electrifying moves.
Vicky Kaushal and Katrina Kaif's love story culminated in a beautiful wedding ceremony in December 2021, surrounded by their close-knit families in the picturesque settings of Rajasthan. Even during their Sangeet ceremony, Vicky serenaded his beloved bride by singing 'Tere Ore' from Katrina's 2008 hit movie, 'Singh Is King,' adding a touch of romance to the celebrations.
Speaking about their professional collaborations, Vicky has expressed his desire to share screen space with Katrina. While they receive offers to work together, they've chosen not to rush into it solely for the sake of the "VicKat" brand. Their intention is to choose projects carefully, ensuring that their joint venture will be nothing short of a cinematic spectacle, capturing the attention of audiences far and wide.
ALSO READ: Animal: Prabhas heaps praise on Ranbir Kapoor, Rashmika Mandanna starrer teaser; calls it stunning
Last Updated Sep 29, 2023, 1:05 PM IST