Twitter has suspended actor Kangana Ranaut's account for violation of its rules.
Twitter has suspended actor Kangana Ranaut's account for violating its rules.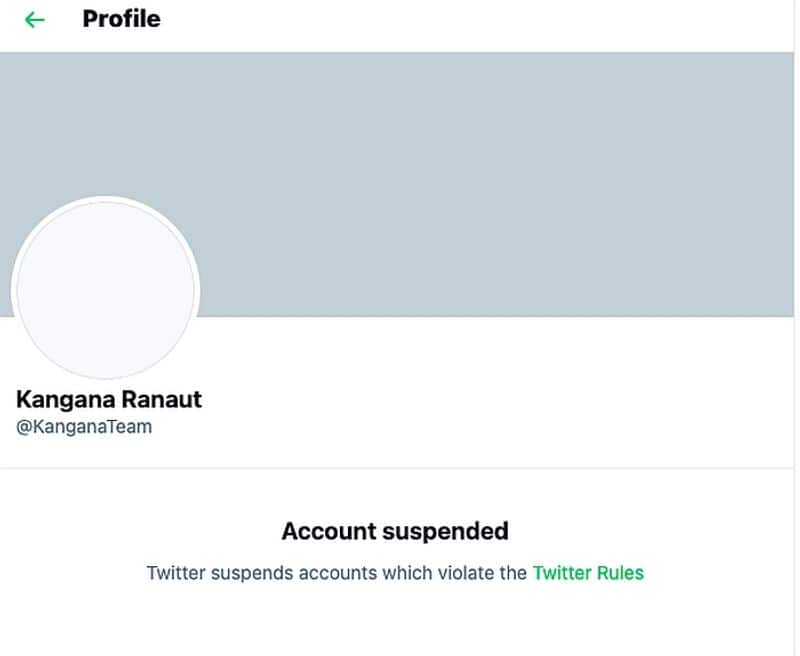 The outspoken actor, who has been known not to mince her words, had yesterday slammed the political violence allegedly perpetrated by Trinamool Congress workers after the election victory. 
In one of the tweets, she had claimed that Prime Minister Modi needed to show his "virat roop" (grand image) from the early 2000s to "tame" Mamata. She also sought President's rule in Bengal.
While we aren't sure whether this was what prompted Twitter to suspend the actor's account, surely the last word is yet to be spoken in this controversy.  
Recently, a Twitter user accused Sonu Sood of being a fraud. Much to everyone's surprise, Kangana liked the tweet that claims the actor is using the Covid-19 pandemic to make money. 
For the unknown, the Twitter user shared advertisement images in which Sonu was seen promoting oxygen concentrating machines. 
The machines cost lakhs of rupees. Sharing the images, the Twitter user wrote, "Such a fraud using a crisis to make money Oxygen concentrator Rs. 2 lakh." Many Twitter users, including Kangana Ranaut, liked the tweet.
Coming back to Kangana's Twitter ban, according to the microblogging guidelines, an account may be suspended if the individual threatens violence against an individual or a group of people. Glorification of violence is also unacceptable.
The rules also say that no individual should engage in the targeted harassment of someone, or incite other people to do so. This includes wishing or hoping that someone experiences physical harm
Last Updated May 4, 2021, 1:01 PM IST