'The Vaccine War': 'The Kashmir Files' star Pallavi Joshi talks about women's empowerment and more
"The scientists that we have on board are the same kind of women who handle their professional as well as their personal life", says Pallavi Joshi as she talks about women's empowerment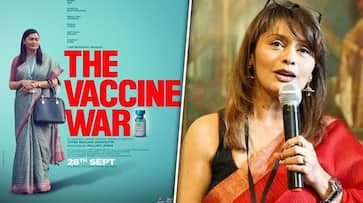 Pallavi Joshi is the most productive and artistic talent in Indian cinema, having wowed the country with her performance in the global smash The Kashmir Files. Aside from being an extraordinary performer, Pallavi's command of appropriate subjects is impressive. She is now preparing for the premiere of The Vaccine War, India's first bio-scientific film, in which she is both the performer and producer.
The Vivek Ranjan Agnihotri-directed picture has established its worth in the United Kingdom and numerous other nations where the creators had a special showing that received a standing ovation from the audience. Pallavi Joshi recently spoke about women's empowerment and dedicated her film to the country's middle-class women.
Talking about the Women Empowerment, Pallavi Joshi Said, "The indic feminism i saw in the interviews - and I call it indic because the West looks at feminism at a very different lens. But here our middle-class women who go to work daily and handle their house also at the same time, cook food and take care of their in-laws and kids as well but at the same time they are so good at their professional life too. So we thought to make this movie for such women. Because the scientists that we have on board are the same kind of women who handle their professional as well as their personal life so well with all our Indian values and it was fun playing their role in this movie."
Pallavi Joshi's upcoming film 'The Vaccine War' also covers Indian Women Scientists, and the much-anticipated film highlights the spirit of the Women Scientists who toiled day and night with all their enthusiasm to guarantee the vaccine reached across the country.
The key characters of 'The Vaccine War' will be played by Anupam Kher, Nana Patekar, Sapthami Gowda, and Pallavi Joshi. The film, produced by Pallavi Joshi and I Am Buddha, will be released in theatres on September 28th, 2023, solely in Hindi, Tamil, and Telugu.
Last Updated Sep 13, 2023, 3:30 PM IST