The Real Housewives of Beverly Hills 13: Kyle Richards opens up about separation from Mauricio Umansky
In Season 13 of RHOBH, Kyle Richards and Mauricio Umansky's strained marriage is a central theme, with Kyle's tattoos sparking a tiff as they navigate personal growth and independence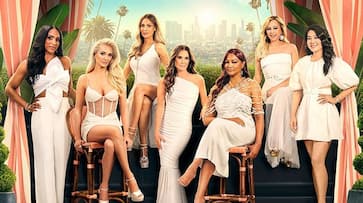 The Real Housewives of Beverly Hills is back with its thirteenth season, and the cracks in Kyle Richards and Mauricio Umansky's marriage are more visible than ever. This popular reality series, which premiered on October 25, 2023, on Bravo, has already stirred up a significant buzz. One of the central plot points of the season is the separation of Kyle Richards and Mauricio Umansky, who had been married for several decades. The season's first episode provided insight into the "painful times" they were experiencing before deciding to split. Kyle openly discussed the challenges they had been facing in their relationship.
Rumors of their separation had already taken center stage in the trailer for The Real Housewives of Beverly Hills Season 13, and the season's synopsis hints at the turmoil in their 27-year marriage. It reads, "With her 27-year marriage in turmoil and her relationship with her sister in limbo, Kyle reaches her breaking point after the tabloids, and those closest to her, question her budding friendship with a well-known country singer," alluding to the Morgan Wade rumors.
In the first episode of the season, Kyle revealed how things had changed between her and Mauricio. In her confessional, she explained, "Mo and I have had a challenging year together. He has been working non-stop, and I've been working." Their busy schedules had created scheduling conflicts, and they even had to schedule a meeting just to go over each other's schedules. When they sat down for a chat, Mauricio complimented Kyle on her dedication to staying fit and healthy. He praised her, saying, "You look so good. You're working out like a beast right now, you're eating well, you're not drinking. Like, you're changing your life." Kyle shared that going through difficult times in her life had led to a personal transformation, making her feel disconnected from her husband. She found wellness and fitness as an outlet for her emotions. However, the conversation took an unexpected turn as it became a tiff over Kyle's tattoos.
Mauricio noticed a new tattoo on her ankle and inquired about how many tattoos she had in total. To his surprise, Kyle revealed she now had five tattoos, while he had only known about three of them. With a touch of humor, Kyle quipped, "Well, maybe you should be looking at my body closer." In her confessional, she reflected on how things had changed over the years, saying, "Years ago, he would've noticed a freckle on my body. Now he doesn't know that I have two more tattoos."
ALSO READ: Aditya Roy Kapur, Ananya Panday's date-night video goes viral [WATCH]
Mauricio expressed his opinion that five tattoos were enough and declared that he would not allow any more. Kyle, however, stood her ground, asserting, "If I want one, I'm going to get one. It's my body," and emphasized that he had no say in the matter. She went further, saying, "I'm at a point in my life [where] I don't have to explain anything to anybody anymore, including you," highlighting her newfound sense of independence and self-determination.
Last Updated Oct 28, 2023, 9:42 AM IST