The Crown season 6: Dominic West explored Prince Charles' darkest hour after Princess Diana's death; Read
Dominic West discusses his role as Prince Charles in "The Crown" Season 6, highlighting the portrayal of Charles during the aftermath of Princess Diana's death and the challenges he faced in connecting with his sons. The season will explore sensitive family dynamics and draw comparisons to real-life events involving Prince Harry's criticism of his family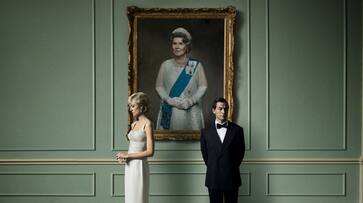 Dominic West, who plays Prince Charles in season 6 of "The Crown," has shared insights into his portrayal of the British monarch during what he calls "the worst period" of his life. The upcoming episodes will delve into the aftermath of Princess Diana's tragic death in August 1997, a period marked by significant personal and public challenges for Prince Charles.
Charles and Diana had divorced the year prior, with Charles solidifying his relationship with Camilla Parker-Bowles and Diana entering into a relationship with Dodi Fayed, who also tragically died in the Paris car crash that claimed her life.
According to West, the season features intense and emotional scenes, with a focus on Charles coming to terms with Diana's death. The season will also explore how he breaks the news to his sons, William and Harry, and attempts to help them grieve, with varying degrees of success.
ALSO READ: Rashmika Mandanna Deepfake video: Telengana MLA K. Kavitha calls for urgent action to safeguard Indian women
West, who has played Prince Charles since Season 5, drew on his own experiences as a father of two boys similar in age to Princes William and Harry. He aimed to portray Charles in a positive light and expressed understanding for the character's struggles in connecting with his son, William, during a particularly challenging period.
The series is expected to generate discussions around Prince Charles' relationship with Prince Harry, who stepped down as a working royal after marrying Meghan Markle and has been critical of his family through various media platforms, including a Netflix documentary and a memoir.
West emphasized that he believes Charles is a "very emotional" person and has depicted him as such in intimate, private scenes where he cares for his young sons following their mother's passing. He acknowledged that some aspects of Charles' character had to be adjusted in light of Harry's revelations in his memoir, specifically regarding Charles not hugging him but offering words of comfort when they received the news of Diana's death.
The season's storyline will be divided, with the first two-thirds focusing on the aftermath of Diana's death and the final third transitioning to "happier" times, including Charles and Camilla's marriage. Charles ascended to the throne following Queen Elizabeth II's passing the previous year, and Camilla was named Queen Consort.
'The Crown' Season 6 is set to release in two blocks of four episodes each, with the cast remaining the same as the previous season. Imelda Staunton portrays Queen Elizabeth II, Jonathan Pryce plays Prince Philip, and new faces include Ed McVey and Luther Ford as Prince William and Prince Harry, with Rufus Kampa and Fflyn Edwards portraying the younger royal brothers. The series offers a dramatic portrayal of the lives of the British royal family during this tumultuous period.
Last Updated Nov 7, 2023, 3:34 PM IST