The Crown: Final season to have two parts; know the release dates and more
The Crown Final season: Netflix unveiled a minute-long teaser which promises to keep the audience on the edge of their seats. The clip begins with the voice of Claire Foy saying, "The Crown is a symbol of permanence."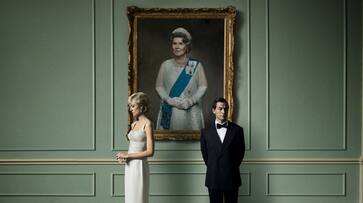 "It's not a choice, it is a duty." The Crown's last season is about to begin. Netflix revealed a surprising twist in a new announcement: the grand finale will be delivered in two parts. Part one is expected to premiere in November, with part two in December. The most recent announcement includes two posters. The first portrayed Princess Diana sitting on the edge of a plank beside a swimming pool, while the second had Queen Elizabeth II in a frame.
Netflix revealed the dates with these two posters. The first instalment will be available on November 16, and the second instalment will begin on December 14.

Netflix also released a minute-long trailer on Monday, promising to keep viewers on the edge of their seats. The footage opens with Claire Foy's voice stating, "The Crown is a symbol of permanence." It then turns to Olivia Colman, who is heard mentioning, "Some portions of our natural selves is always lost." Finally, the camera rests on Imelda Staunton (The Queen) who says: "But what about the life, I put aside? The woman, I put aside?"
"As The Crown enters a new decade, Prince William starts at University in St Andrew's, determined to lead as normal a life as possible while he still can. Also beginning life as a University student, is Kate Middleton from Berkshire. As the pair meet for the first time on campus, a new romance and a new future for The Crown begins," the official description reads.
The Crown's final season will focus on historic events such as Prince Charles and Camilla Parker-Bowles' spectacular 2005 royal wedding and the heartbreaking sorrow of Princess Diana's death. The last season will most likely focus on Prince William and Kate Middleton's courtship.
Imelda Staunton plays Queen Elizabeth II, Elizabeth Debicki plays Princess Diana, Ed McVey plays Prince William, Luther Ford plays Prince Harry, Meg Bellamy plays Kate Middleton, and Jonathan Pryce plays Prince Philip as Prince Charles and Camilla, Dominic West and Olivia Williams will reprise their roles.
The royal family has long piqued people's interest. The biographical series began with Queen Elizabeth II's accession to the throne in 1952. The Crown's final season promises a mix of history, drama, and passion as the curtain closes on epic historical drama.
Last Updated Oct 10, 2023, 10:14 AM IST