Telegu star Nani snubs Koffee with Karan; prefers private talks over 'Kontroversial Kouch'
Natural Star Nani rejects Koffee with Karan appearance, citing misalignment with personal values and a commitment to privacy. Gearing up for Hi Nanna release, a heartwarming father-daughter tale. Nani's decision underscores his unique choices in films and dedication to maintaining a distinct public image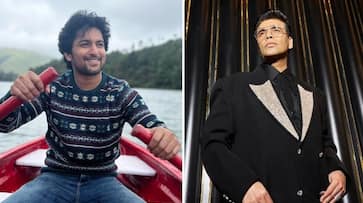 Natural Star Nani, known for his unconventional film choices and candid persona, has recently made headlines by turning down an invitation to appear on the popular talk show, Koffee with Karan, hosted by director Karan Johar. In a recent round table meeting, the Hi Nanna actor expressed his reservations about participating in the show, citing misalignment with his values and a desire to maintain privacy in his personal life.
During the discussion, Nani stated that while he would be open to discussing movies with Karan Johar in a personal setting, the format of Koffee with Karan did not resonate with his principles. The Ashta Chamma star firmly declared, "I will definitely say no to Koffee with Karan. I would say that very politely to him, but I will definitely go and visit him personally and talk." This decision underscores Nani's commitment to maintaining a certain level of privacy and avoiding the controversial content and personal revelations often associated with the talk show.
ALSO READ: Koffee With Karan 8: Alia Bhatt, Ranbir Kapoor to become parents again? Here's what we know
Nani, recognized for his willingness to support new actors and filmmakers, is currently gearing up for the release of his upcoming film, Hi Nanna. Directed by debutant Shouryuv, the heartwarming story revolves around the relationship between a father and daughter. Scheduled for release on December 7, the film will be available in Telugu, Tamil, Malayalam, Kannada, and Hindi languages.
The teaser of Hi Nanna, released last month, received widespread positive reviews, setting high expectations for the film's success. The lyrical video song "Samayama" from the movie has also garnered immense love from the audience.
Looking ahead, Nani's 31st film, titled Saripodhaa Sanivaaram and directed by Vivek Athreya, is in the pipeline. The action entertainer, set to feature Priyanka Arul Mohan and SJ Suryah in lead roles, is anticipated to be released in multiple languages.
ALSO READ: Kareena Kapoor's savage reply to Karan Johar asking if Deepika is her 'competition' is unmissable - READ
Nani's decision to decline the Koffee with Karan invitation reflects not only his dedication to his values but also his determination to navigate the entertainment industry while safeguarding his personal life. As the actor continues to make distinctive choices in his film career, fans eagerly await the release of Hi Nanna and the upcoming projects that showcase his emotional connect with audiences.
Last Updated Nov 16, 2023, 12:38 PM IST