Tejas: Kangana Ranaut starrer trailer to release on THIS date; Details inside
Get ready for an action-packed trailer release on Air Force Day for 'Tejas' - a patriotic film starring Kangana Ranaut directed by Sarwesh Mewara.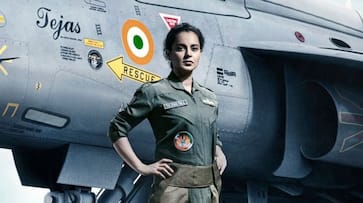 The teaser for the movie "Tejas," starring Kangana Ranaut, has generated a lot of excitement among viewers. It gave a brief glimpse into the action-packed world of the film and hinted that it will offer a unique and thrilling experience. Without much delay, the makers have announced that the trailer will be released on Air Force Day.
The trailer for "Tejas" is scheduled to be released on October 8. The film strongly celebrates patriotism, and that's why the makers chose to release the trailer on Air Force Day. This movie is produced by RSVP and features Kangana Ranaut in the lead role as Tejas Gill. It is written and directed by Sarvesh Mewara and produced by Ronnie Screwvala. "Tejas" is set to hit theaters on October 27, 2023.
Director Sarvesh Mewara released the teaser on Gandhi Jayanti, which revealed that Kangana Ranaut will be portraying the character of an airforce officer named Tejas Gill, who will be taking to the skies to defend the country. It's worth noting that this film is not a biopic. With the teaser launch, the release date was pushed back by a week, and "Tejas" will now premiere on October 27, avoiding a clash with Tiger Shroff's "Ganapath."
"Tejas" has been in development for three years, initially planned for release in December 2020. Kangana Ranaut expressed her excitement for the film, highlighting that it tells an exhilarating story about an air force pilot. She stated "Tejas is an exhilarating story where I have the privilege of playing an air force pilot. I am honoured to be a part of a film that celebrates these brave men & women in uniform who make immense sacrifices in the line of duty everyday. Our film celebrates the armed forces and its heroes … Excited to take this journey with Sarvesh and Ronnie (Ronnie Screwvala, producer)."
ALSO READ: Ganpath: Tiger Shroff grooves with Varun Dhawan, Shahid Kapoor to latest song 'Hum Aaye Hain'; WATCH
Last Updated Oct 7, 2023, 4:54 PM IST