Star Kiccha Sudeep to file complaint against morphed tweet in his name
A tweet in the name of Kiccha Sudeep and with his photo was posted on Twitter
Though it looked as if it came from Kiccha Sudeep's account, the actor had not tweeted it
On noticing this, the actor has initiated action in this regard
Speaking to Suvarna, Abhinaya Chakravarthy Sudeep said that the morphed Tweet congratulates the Raajakumara team for a good performance. I do not have a problem with this. But no one should misuse others social media accounts, he said.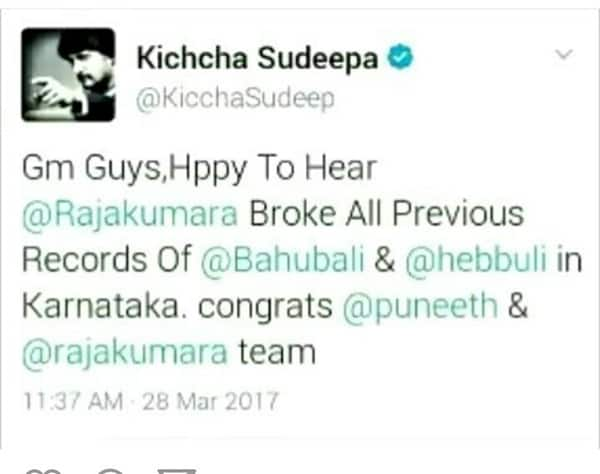 Sudeep expressed his concern over the practice. "Today, someone has misused my account to congratulate the team. But if this matter is not dealt with seriously, the social accounts can be used to abuse someone, which might spoil some one's life. Thus it is important that action is taken in the first instance itself," he said.
"We will surely file a case in this regard. People should start behaving socially responsible. These fake tweets can take some one's life if they are of serious nature.
What is wrong is wrong. It is a criminal act and will lead to bigger problems if not solved now. Social media war between fans is restricted to them, in real life stars do not fight nor have an enmity. I will wish Puneeth personally for his success, but morphing others account to say something is completely wrong.
Referring to the content of the Tweet, Sudeep said, it is not the matter of records. Records are there to be broken. When one movie breaks the record, it becomes a challenge for the others to think of making a good cinema to break this record. It is healthy competition, and there is no war between the stars.
I congratulate the Raajakumara movie team, and the team wish well, said Sudeep and said that action would be taken against the person who has morphed his photo and name into someone else's tweet.
Last Updated Mar 31, 2018, 6:45 PM IST