Squid Game The Challenge: Season 2 promises new challenges, horrors and players
Squid Game: The Challenge will premiere on November 22, 2023, on Netflix.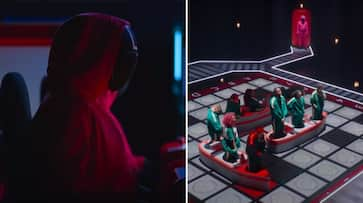 Netflix took to their social media to release the first trailer for The Challenge on social media on Monday evening. On November 22, the popular survival drama will make its streaming debut on the site. The series' trailer shows 456 players who will go to any length to win grueling survival games in order to be the last man standing and win a cash prize of $4.56 million. 
The series, however, will have a surprise for the audience. The future series will feature genuine participants in a number of exhilarating games inspired by the original series, as well as some new challenges. Some of the original games from the Korean series, such as Red Light and Green Light, will be featured in the next unscripted show.
Watch the trailer
Sharing the trailer, Netflix wrote, ''Green Lighting our excitement because a new series of competition, challenges, alliances, and fun awaits,'' Netflix wrote alongside the clip. The Squid Game: The Challenge will premiere on November 22nd.''
In July, the series' creators released an introduction video in which they sought submissions from participants from all over the world, with the requirement that they speak English. Previously, the show's creators claimed that it has the largest cast in reality television history. Even the $4.56 million cash prize is the greatest in reality television and game show history.
About Squid Games
'Squid Game' is a Netflix South Korean survival drama television series developed by Hwang Dong-hyuk. Lee Jung-jae, Park Hae-soo, Wi Ha-joon, HoYeon Jung, O Yeong-su, Heo Sung-tae, Anupam Tripathi, and Kim Joo-ryoung are among the cast members.
 
Last Updated Oct 24, 2023, 2:05 PM IST