Sophie Turner split sparks controversy: Joe Jonas accused of asking for n*udes to Ex-Nickelodeon star
Twitter erupted in debate after Alexa Nikolas' tweet divided users over Joe Jonas. Some defended Joe, while others criticized his actions, raising questions about judgment and complex issues from their shared past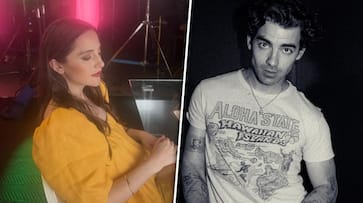 In recent days, the American singer Joe Jonas has been making waves in the media, capturing the attention of many with his announcement of his divorce from Sophie Turner. In a shocking turn of events, the renowned singer-songwriter and sibling of Nick Jonas finds himself embroiled in a scandalous accusation. It has come to light that he stands accused of soliciting explicit photographs from a former Nickelodeon star during her formative teenage years. 
In a recent development, Alexa Nikolas, the individual who levelled accusations against the singer, has taken to the popular social media platform Twitter to share her account of the incident.
In a recent tweet, she candidly shared her past encounter with Joe Jonas during their teenage years, shedding light on an intriguing aspect of their relationship. According to her, Jonas, who was famously known for wearing a purity ring, surprisingly made a request for explicit photographs.

A tweet from Alexa Nikolas recently set Twitter ablaze, igniting a heated debate that quickly divided the platform. In the midst of this online clash, one faction took a hard stance against Joe Jonas, while another group rallied in support of the star.
Critics of Joe Jonas argued that it was presumptuous for Alexa Nikolas to pass judgment on his character after only a single encounter. They implored users to consider how they would feel if someone did the same to them, emphasizing the importance of fairness and perspective.
Conversely, Joe Jonas found defenders among those who contended that Twitter users should be more adept at acknowledging the complexity of situations. They believed that it was possible for multiple aspects of an issue to be problematic, and that Joe Jonas shouldn't be shielded from scrutiny solely because he and Alexa Nikolas were teenagers at the time. They asserted that some behaviors remain unsettling regardless of age.
Furthermore, a third perspective emerged, highlighting claims that both Joe Jonas and his brothers were pressured by Disney to continue wearing their purity rings, even when their personal beliefs no longer aligned with the practice. 

In a recent development, Nikolas, widely recognized for her portrayal of Nicole Bristow on the highly acclaimed Nickelodeon TV series Zoey 101, has come forward with serious allegations against actor Jonah Hill. According to Nikolas, the incident in question occurred at a social gathering hosted by none other than Justin Long himself. The accusation revolves around an alleged forcible kiss that took place during the aforementioned party. 
On July 8, 2023, a startling accusation was made by a former actor, who alleged that an incident had occurred when they were just 16 years old, with the accused being none other than Hill, who was 24 at the time. In a recent development, Jonah Hill has come forward to vehemently deny the accusations leveled against him.
ALSO READ: 'Jailer' success: After Rs 1 cr, makers donate Rs 60 lakhs for cancer treatment of underprivileged patients
Last Updated Sep 9, 2023, 5:52 PM IST