Singer Ranu Mondal falls flat before visually challenged Thirumoorthy on stage
Singer Ranu Mondal, who became famous after humming Lata Mangeshkar numbers at Kolkata railway station, stood exposed on stage. She panicked and failed to create magic on South Stage, where visually-challenged Thrimoorthy sang his own composition after bagging overnight stardom by singing Kannana Kanne from the Tamil film Viswasam.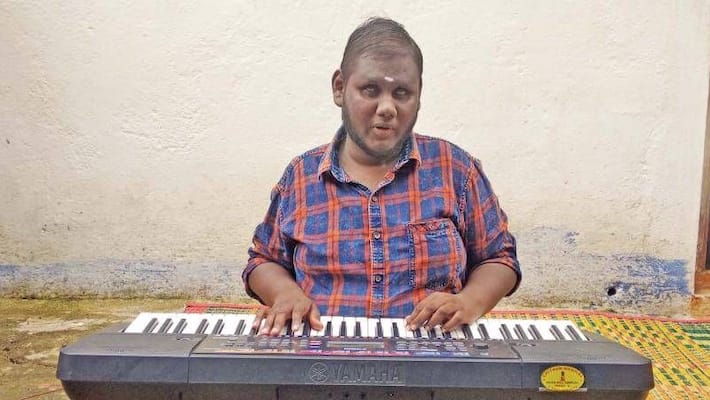 Chennai: Ranu Mondal, who was made a star on social media after she was found singing Lata Mangeshkar songs at Kolkata railway station, failed to recreate the same magic with her voice. However, while sharing the stage with Ranu Mondal, visually-challenged Thirumoorthy, who was spotted singing Kannana Kanne from Tamil film Viswasam, performed and stunned all with his own composition.
Thirumoorthy became an overnight star after he hit the right notes while singing Tamil star Thala Ajith's Viswasam song. Following this, D Imman gave him a break in Jeeva starrer Seeru and made him sing an emotional track.
D Imman, who has composed music for over 100 films in the south, was stunned by Thrimoorthy's talent. The visually challenged person's soul-stirring voice reverberated through every person's heart.
The 21-year-old from Noochipatti village in Krishnagiri, Tamil Nadu, became a viral sensation last year just like Ranu Mondal. Unlike her, Thirumoorthy has developed his skills by penning his own lyrics in the 'Gaana' genre.
D Imman gave him the opportunity to sing Sevvanthiye for Jeeva's action drama Seeru that was released in February this year.
The film got mixed response. However, it was Thirumoorthy, who bagged the lime light.
The 21-year-old singer has had no formal training and still manages to pull Haudonis act.
Last Updated Mar 26, 2020, 9:12 AM IST