Sherlyn Chopra on Shilpa Shetty; 'Yeda Banke Peda Khana' after actress claimed ignorance in Raj Kundra case
Sherlyn Chopra takes a sly dig at Shilpa Shetty's statement that she was busy aware of her husband's Raj Kundra's activities in the alleged porn racket.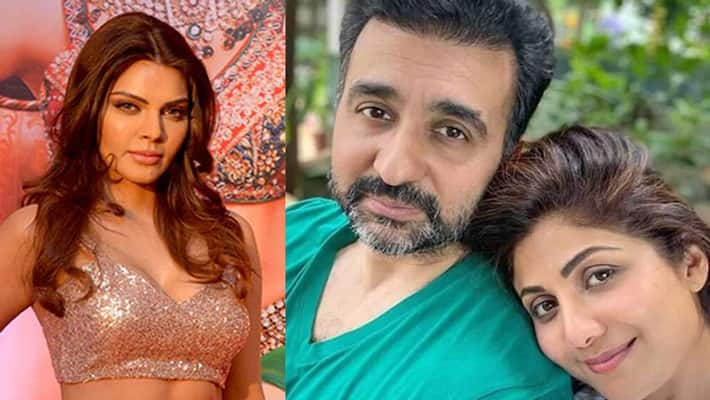 Actress Sherlyn Chopra has now commented to Shilpa Shetty's statement that wasn't aware of what husband Raj Kundra was up to in the porn racket case. Shilpa recently told the Mumbai Police that she was busy with her shooting and work commitments. 
Her statement has been recorded in the charge sheet filed by the Mumbai Police on Wednesday (Spetment 15) against Raj Kundra and Ryan Thorpe, who was the head of his company, Viaan industries.
Also read: Shilpa Shetty, Raj Kundra's relationship was complicated, he is stressed at home, says Sherlyn Chopra
Shilpa's statement says, "Raj Kundra started Viaan Industries Limited in 2015 and I was one of the directors till 2020 when I resigned due to personal reasons. I am not aware of the Hotshots or Bollyfame apps. I was too busy with my work and hence, not aware about what Kundra was up to."
Now, Sherlyn Chopra took to her Instagram account and posted a video taking a dig, referring to Shilpa as 'didi'. Sherlyn was seen holding dumbbells and saying, "According to some media reports, didi is saying that she wasn't aware of the bad activities of her husband. Didi is also saying that she doesn't about the movable and immovable assets of her husband. How true is this statement, you guys can understand youselves."
Sherlyn gave a sarcastic smile and said, "Waise isey kya kehte hain? Yeda bankar, peda khana. Hai na?" In the past, Sherlyn had filed multiple complaints against Kundra. Chopra alleged that she was cheated by him for semi-nude photo shoots and accused him of sexual assault.  Earlier, she had addressed his wife, actress Shilpa Shetty, in a video and said that she wonders if Shilpa had any sympathy for the helpless victims in Raj's case, who bravely recorded their statements at police stations.
Also read: Sherlyn Chopra poses with Shilpa Shetty's husband Raj Kundra; check out their old picture
According to ANI's report, in Chopra's statement, she stated that her production company was never associated with Raj's company. But yes, she had signed an agreement with Raj's company Armsprime as a celebrity artist. Chopra also mentioned that Hotshots made pornographic films with some other talent.
"Since hotshots, Bollywood Flame and Armsprime were all connected to Kundra, I agreed with his company. I was called in to throw some light on the terms and conditions. I told the officers that never did I shoot any videos for hotshots or other alleged apps of Mr Kundra," Sherlyn said.
Last Updated Sep 16, 2021, 4:55 PM IST