Sex Education 4: Laurie Nunn gets candid on impact, taboos and final season
Laurie Nunn reflects on the impact of "Sex Education" as its final season is released, highlighting its educational value and addressing taboo subjects while celebrating the show's success and character development. Laurie plans to continue writing for TV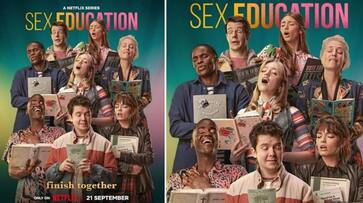 Since 2019, Laurie Nunn has been crafting award-winning storylines, breaking taboos, and delivering an abundance of humorously explicit content in her creation, "Sex Education." But now, as the fourth and final series of the show is released, she takes a moment to reflect.
"I'm going to take a moment to remember what my brain feels like without writing so many penis jokes," she humorously remarks.
This Netflix teen sex comedy boldly addressed various important topics such as slut-shaming, abortion, virginity, and masturbation, just in its first series. Since then, it has continued to shine a light on issues ranging from sexual assault and STDs to disability and transgender identities.
As the final series is unveiled, Laurie reflects on the impact the show has had on its audience.
"It's been really wonderful to see how people have connected with the characters and also the subject matter,". "I hope that people enjoy the final outing."
Laurie explains that the show began with a relatively simple premise: "What would happen if we put a teenage sex therapist on a school campus?" This idea helped me develop the character of Otis (Asa Butterfield) who accompanied by Maeve (Emma Mackey) runs a sex clinic at their school.
"It was a real opportunity to make a TV show that is really funny and entertaining and quite crude, and sometimes really outrageous," Laurie says. "But it's also able to touch on topics that young people feel are important when it comes to talking about their sexuality and identity."
Viewers have grown attached to the characters as they explore their sexualities and gender identities, and the show has also raised awareness of little-known conditions.
One storyline that Laurie is particularly proud of is Lily's (Tanya Reynolds) journey in the first series, where she discovers she has vaginismus, a condition where the vaginal muscles involuntarily tighten. Laurie received numerous messages from young women who watched the show and realized they might have the condition, prompting them to seek medical advice.
"It actually felt like there was something that was educational in the show that went out and actually did have an effect on people's lives."
The show has garnered praise for its honesty, diversity, and willingness to tackle difficult subjects head-on. Aimee Lou Wood, who portrays Aimee, received a Bafta in 2021 for her portrayal of being sexually assaulted on a bus in the second series, a storyline that held personal significance for Laurie.
"The further I got into the scripting, the more I realized these storylines were just very organically coming to an end," she says. "All of the characters were left in a place that I felt really good about and I felt really happy and hopeful for their future."
As for which character Laurie will miss the most, she chooses Otis' mother, Jean, played by Gillian Anderson.
"I really love playing with the kind of contradictions in her character," Laurie says. "On one hand she's this very together, uptight, wise, knowledgeable character, but then she sometimes does things that are just so out of control and messy."
Despite not being a fan of TV series and box sets until her 20s, after four years and 32 episodes of "Sex Education," Laurie doesn't plan to move away from TV writing anytime soon.
"I love writing TV," she says. "So hopefully, I'll get to do it again in the future.
ALSO READ: Amy Jackson's latest look draws comparisons to Cillian Murphy, 'Oppenheimer' star
Last Updated Sep 22, 2023, 10:08 AM IST