Amy Jackson's latest look draws comparisons to Cillian Murphy, 'Oppenheimer' star
Amy Jackson's latest photos spark comparisons to Cillian Murphy, with fans noting an uncanny resemblance to the "Peaky Blinders" star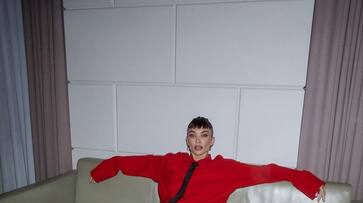 Irish actor Cillian Murphy has unexpectedly become a trending topic on desi Twitter, and the reason behind it might just be Amy Jackson's latest appearance. Amy Jackson shared a series of pictures from a casual outing with her boyfriend, Ed Westwick. What caught everyone's attention was her strikingly different look, with many pointing out an uncanny resemblance to Cillian Murphy.
In these snapshots, Amy sported higher-than-usual cheekbones, captivating light eyes, and an open-mouth expression, reminding fans of Thomas Shelby, the iconic character played by Cillian in the popular TV series "Peaky Blinders." This striking resemblance prompted a wave of humor and excitement across social media, with fans flooding Amy's Instagram comments section with Thomas Shelby GIFs and playful remarks.
One person amusingly commented, "Cillian Murphy doppelgänger, can't unsee this." Another joined in the fun, saying, "You were great in Oppenheimer," in a nod to Cillian Murphy's recent role in Christopher Nolan's hit film. Some even jokingly suggested that Cillian Murphy had "hacked" Amy Jackson's account, while others complimented her by noting that "Tommy Shelby looks good in red."
The pictures in question were taken during Amy's attendance at London Fashion Week, where she dazzled in a striking red outfit. In her Instagram post, she expressed her gratitude to Maison Valentino and her Valentino Beauty family for a memorable time at the PERFECT magazine party.
In addition to her newfound resemblance to Cillian Murphy, it's worth noting that Amy Jackson is in a relationship with Ed Westwick, known for his role as Chuck Bass on the hit show "Gossip Girl." The couple recently enjoyed a romantic getaway in Udaipur, India. Amy confirmed her relationship with Ed via an Instagram post in June of the previous year, following her previous engagement to George Panayiotou.
On the other hand, Cillian Murphy's most recent appearance was in Christopher Nolan's blockbuster film "Oppenheimer," where he portrayed Robert J. Oppenheimer, often referred to as the "father of the atomic bomb." The movie also featured an ensemble cast, including Robert Downey Jr., Matt Damon, Emily Blunt, and Florence Pugh, and achieved substantial success both in India and internationally, grossing over $900 million.
In summary, Amy Jackson's recent pictures have ignited a playful and light-hearted discussion on social media, with fans drawing amusing comparisons between her and the acclaimed actor Cillian Murphy. While the resemblance may be uncanny, it's clear that both Amy and Cillian have their unique charm and talents that continue to captivate audiences worldwide.
ALSO READ: Alia Bhatt finally breaks silence on being called 'nepo kid'; Know details
Last Updated Sep 22, 2023, 9:10 AM IST