Say What! Will Smith's wife Jada Pinkett Smith gets tattoo of Goddess Sita
Hollywood actor Will Smith's wife Jada Pinkett Smith gets inked with Goddess Sita image; Priyanka Chopra says, 'Jai Mata Di'.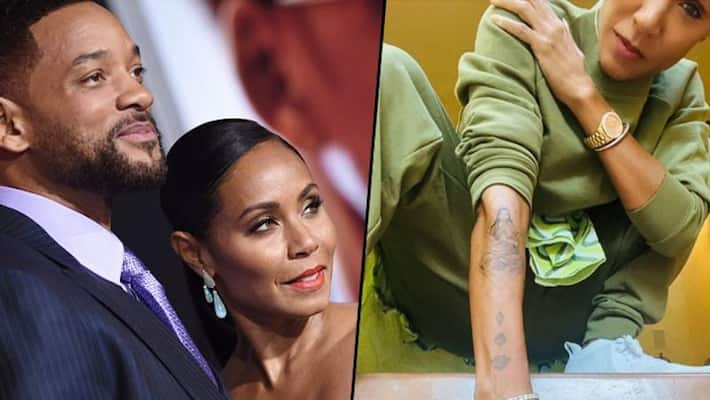 Hollywood celebs love Indian culture and their gods. We have seen many getting tattoos of Gods like Kali, Ganesha, Buddha and Shiva etc. Brandy Norwood got Lord Ganesha's face on her arm. Rihanna got a Sanskrit prayer inked going down her hip. Miley Cyrus got 'Om' symbol that she has tattooed on her wrist etc etc.
The latest is Hollywood actor Will Smith's wife Jada Pinkett Smith, who also Artist got a tattoo of Goddess Sita on her forearm.
Yeah, it is unusual to see a tattoo of Sita. She shared a picture on her Instagram flaunting her new tattoo and captioned it, "I always said I would get a sleeve at 60 but tomorrow is not promised. Soooo … I'm starting to build my sleeve now! Repp'n the Divine Feminine journey within and without. ✨Jai Ma✨ #MataSita #Allat #Oshun #QuanYin
Many celebrities worldwide like Priyanka Chopra, Jay Shetty, Adrienne Norris, Jahnavi Harrison posted positive comments. Priyanka Chopra wrote, "Beautiful. Jai mata di. 😍" Janhvi Harrison commented, "Oh wow. So so so so beautiful Jada!!! I can't wait to see her in person!!" Jay Shetty wrote, "So Dope and divine." 
A few months back, actress Salma Hayek spoke about how she meditated on Goddess Laxmi to unite with her inner beauty. Many praised her for understanding the beauty of Hinduism.
Last Updated Aug 18, 2021, 3:09 PM IST