Roberrt: Sandalwood star Darshan's lyrical video 'Dostha Kano' to release at 11 am
With the release date - April 9 - for much anticipated Kannada film Roberrt fast approaching, the makers will release another lyrical video Dostha Kani to treat the curious fans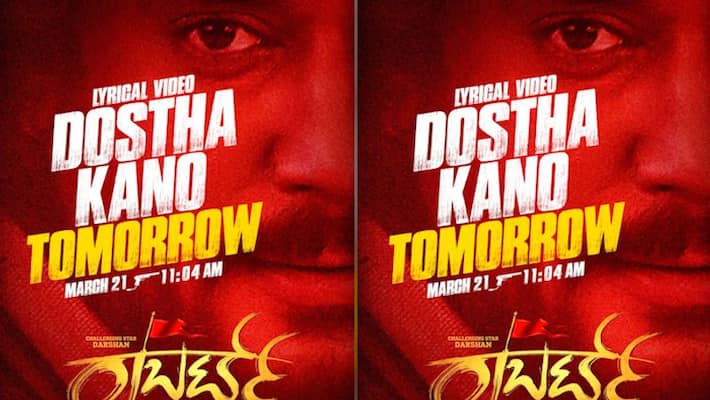 Bengaluru: Ever since Sandalwood actor and mass hero Darshan announced on Twitter about the release of the lyrical video of his upcoming film Roberrt, fans are eagerly waiting online. 
Fans of the Challenging Star on YouTube are all set trend this video much more then Puneeth Rajkumar's Yuvarathnaa and James's dialogue teaser and motion poster. 
The makers of Roberrt had recently released Jai Jana ki Rama, a lyrical video of Darshan in Hanuman avatar. The video stormed the social media. 
The makers are hoping that the film will as per schedule despite the social distancing and other activities that are in place to fight the novel coronavirus outbreak. 
The Roberrt team wanted to shoot a song abroad to wind up the production stage, but were stuck following coronavirus fears. Later, the crew got the song sequence shot at Runn of Kutch in Gujarat and Pakistan borders.
Last Updated Mar 21, 2020, 10:40 AM IST