Roberrt makers cash in on Kannada star Darshan's birthday, release audio teaser
In order to treat Darshan's fans on his birthday today, the makers of Kannada film Roberrt released the audio teaser. In just 9 hours, the roughly 50-second teaser touched 98K views on YouTube.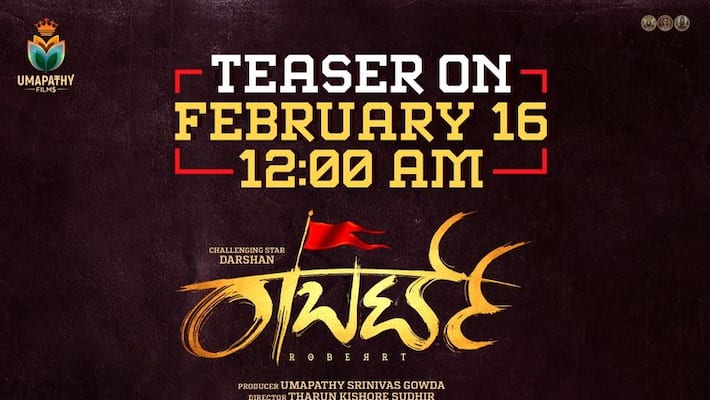 The makers of Darshan starrer Roberrt, as promised earlier, have come up with the perfect birthday gift for fans of the Challenging Star today. On Kannada star Darshan's birthday, the makers have released an audio teaser of Roberrt on YouTube sharp at 12 am. 
Within hours, the teaser has touched a whopping 98K views and still garnering more. 
Earlier, director Tharun Kishore Sudhir of Darshan's Roberrt on January 13,  released the second look motion poster of Roberrt. And that time too the views touched amazing numbers. 
The film is expected to be released some time in March or April to cash in on the summer holidays. As Darshan has earned a large fan base cutting across age limits, the makers hope that Roberrt would set the cash registers ringing. 
Take a look at the poster.
The film's cast:
Challenging Star Darshan, Vinnod Prabhakar, Asha Bhat, Jagapathi Babu, Ravi Kishan and others
Director:
Tharun Kishore Sudhir
Music:
Arjun Janya
Last Updated Feb 16, 2020, 11:01 AM IST