Rhea Chakraborty terms her family, friends as 'pillars of sanity'
In a recent interview, Rhea Chakraborty finally speaks about how her family & her close friends had been with her throughout the media trials.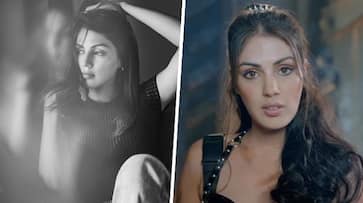 In a recent news channel conclave, Rhea Chakraborty had actively participated where her confidence spoke volumes when she shared her life experience during media trials in 2020.
It was the first time where she shared her experience on how media & the local public had spoken so much about her. How media portrayed her & how she was constantly trolled on every media source.
During the conclave, she was asked about how she managed herself & successfully tackled all the negative energy, though the spotlight of media was always on her, her family members & her close friends. And to answer that question, she spoke how her family & her close friends constantly stood by her  & believed in her.
 

Rhea shared a video of conclave, captioning "FAUJI KI BETI" & says, 'I think my entire strength and resilience came from my family, my father being in the army… I think you know we had that army upbringing, and I remember when everything was at its peaked. We won't lie; we stand up and take the bullet on our shoulder and if you have to go you have to go, but at least you stood up, and you gave yourself a last fighting chance, so I would give it entirely to my family if it weren't for my and even Nidhi my friend is hear some of my other few of my girlfriends Shibani Dandekar who stood by me'.

She also added  that, 'We were a handful of people, and we were mobs facing the size of billions, but I think that's all you need 3-4 people who trust you and love you. They are your pillars of sanity, and then you're good you're golden.'
And concluding with, 'Despite the media being our enemy and invading our privacy, my family has remained united and strong. We have each other's backs, and that has helped us get through the tough times. We all have our bad days, but we put on a brave front for each other. We are like a small regiment, and my father is a Colonel. I am proud to serve under him, and I would like to say, "Colonel Chakraborty , it has been a pleasure serving under you!'

On this video post, many celebs & her fans congratulated her in comment section. Mrunal Thakur commented 'RHEA' with red heart emoji; Human Qureshi commented 'Ufff' with three red heart emoji.

ALSO READ: Roadies Season 19 marks Rhea Chakraborty's triumphant comeback as gang leader

Rhea's Work-front:
Currently, the actress have made a comeback in 'Roadies season 19: Karam Ya Kand', where she is a gang leader

ALSO READ: Rhea Chakraborty shares feelings on missing Sushant Singh Rajput; Here's what she said
Last Updated Oct 8, 2023, 4:50 PM IST