Rhea Chakraborty shares feelings on missing Sushant Singh Rajput; Here's what she said
Rhea Chakraborty opens up about the unfillable void left by Sushant Singh Rajput's absence and the challenges of moving forward in life without him.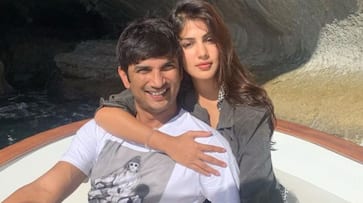 On June 14, 2020, the tragic death of Sushant Singh Rajput sent shockwaves across the nation, subsequently subjecting his girlfriend, Rhea Chakraborty, to intense scrutiny and criticism. Rhea Chakraborty's ordeal began with allegations of abetting Sushant Singh Rajput's suicide, and later, an investigation into alleged drug procurement based on her WhatsApp chats. Her arrest by the Narcotics Control Bureau (NCB) in September 2020 led to her spending nearly six weeks in Byculla jail. As of now, she is out on bail, and her case is under judicial consideration at the Bombay High Court. This period marked a challenging phase in her life as she battled numerous allegations while striving to resurrect her derailed career. Rhea Chakraborty made a public appearance at Mumbai Conclave 2023 on October 5. During the event, she openly discussed her journey, career choices, and ambitions.
In her conversation with India Today following her session at the Mumbai Conclave, Rhea Chakraborty candidly admitted that the void left by his absence could never be filled. She said "I don't think that hole can ever be filled. I miss him and it's going to be very difficult to live the rest of my life without that friend, that partner, that companion. But, life has happened to both of us and one has to move on." In her discussion, Rhea emphasized that she viewed herself as a survivor rather than a victim, drawing inspiration from her family's resilience, with her father's military background instilling a never-give-up attitude.
Rhea also emphasized the importance of moving forward in life. She stated "Moving on is one thing that makes us human. It makes us survive, it helps us keep going no matter what happens in our lives, be it tragedy, pandemic, and in my case, jail. You want to move on. I am really looking forward to moving on. It has been hard to live a normal life again, like going for a walk, or a salon for a haircut or going for dinner with your parents. I was going through a person's loss in my life and there was so much media attention. I wasn't allowed time to grieve. All of that has come and those small victories are very exciting to me. I am grateful I am able to lead a normal life again now."
Acknowledging the hesitation to invest in movies featuring her, Rhea said, "It is a very big thing that happened in 2020 and it's a part of every conversation now someway or another. I hope the quantity of that conversation decreases now because I have so many other things. That thing has changed my life, but I am also just a person. I am that girl who came to Bombay when she was 17 with dreams of becoming an actress. People are now scared to put their money on a film I am a part of and I understand. I don't blame them. No one has been sympathetic towards me, they have been empathetic and warm. It is scary for them. There have been times I told people myself not to cast me because I knew they would be trolled and the film would tank."
ALSO READ: Leo: Thalapathy fans damage Chennai Rohini theatre after trailer release
Last Updated Oct 6, 2023, 1:08 PM IST