Remembering Dr Rajkumar: Off-screen moments with actress Jayanthi
Actress Jayanthi has the record of acting in most films (36 movies) with Dr Rajkumar. They shared such a bond that Jayanthi was close enough to play pranks on Karnataka's most beloved actor. From leaving Dr Rajkumar embarrassed with Jayanthi's saree in his hand to many precious moments of laughter, we remember the legendary actor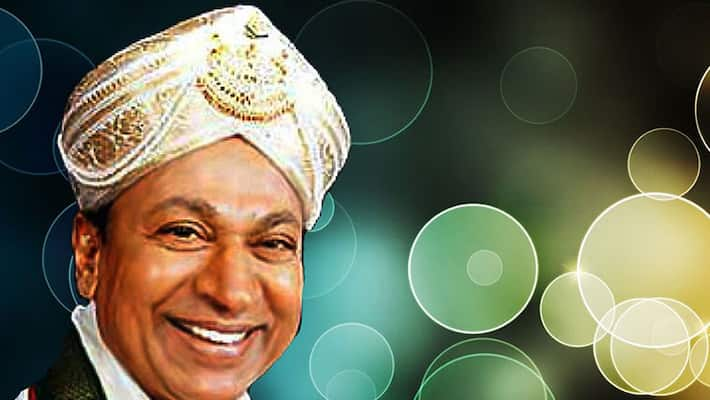 The Raja Jodi as they were called, was shooting for Devaru Kotta Thangi movie. Jayanthi had read her part of the dialogue and was ready for her shot. But Dr Rajkumar had long dialogues, and was sitting in a corner with the script, reading it with utmost concentration.
Looking at him Jayanthi had an idea. She went up to Raj and kept the edge of her saree on Rajkumar's hand. Rajkumar without realising caught the edge of the saree and continued with rehearsing his dialogues.
This went on for nearly eight minutes, and none in the set including Jayanthi made it look obvious. But Jayanthi knew that until Rajkumar was thorough with his dialogues, he was not going to notice his hand.
She then requested permission for her to sit. Rajkumar did not understand why she was asking for his permission and said, please do sit.
Jayanthi's quickly replied, "I can sit only when you leave the edge of my saree." It took a moment for Rajkumar to realise that he was holding the edge of her saree.
Quickly releasing the saree from his hands, he questioned her, "How did the saree edge come into my hands."
Jayanthi smiled and confessed that neither the saree placed itself on his hands, nor was it him who placed his hands on the garment and admitted that she had placed the edge of the saree in his hands.
Dr Rajkumar blushed and said," I didn't realise, I am sorry Ms Jayanthi."
The mutton and the elephant
In another such amusing anecdote, during the shooting of the movie "Bhaddur Gandu" with Jayanthi, an incident to do with mutton piece left Dr Rajkumar amused.
The shooting of the movie took place near Hogenakal Falls. After the shoot, artistes, technicians were waiting in line for dinner as there was mutton curry. Dr Rajkumar took a piece of mutton and started biting it. But despite his hard work, the mutton piece refused to break away.
After a while, Jayanthi asked Dr Rajkumar, why are you struggling with this piece, keep it aside and take another piece. But a determined Dr Rajkumar did not stop biting into the piece and said, "Today I want to see who is stronger, the piece or my teeth?"
After a while, he said I think the mutton piece is stronger and kept it aside. He called the production crew and asked who purchased the meat and where it was from and continued eating.
He was into the habit of talking a walk after dinner into the forest with a group of people. On this night, it was pitch dark, and Jayanthi asked him, "What would you do if we encounter an elephant?" Dr Rajkumar was confident and said, "You don't have to be scared when the Bahaddur Gandu (brave man) is accompanying you."
But Jayanthi asked him again, "If an elephant appears in front of us, what will you do?" Dr Rajkumar answered: "The moment I see the elephant, I will hold your hand and run as fast as I can."
Last Updated Apr 12, 2019, 3:15 PM IST