Rashmi Rocket Trailer: Taapsee Pannu to unveil the dark side of gender testing for female athletes
Rashmi Rocket is a mind-blowing film about Rashmi (Taapsee Pannu) fighting for her identity to become an athlete.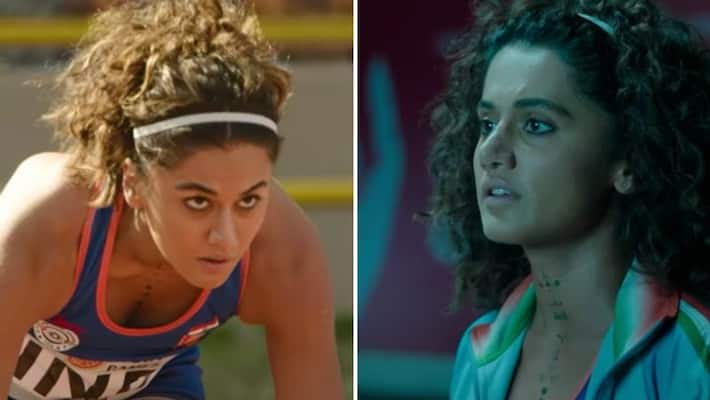 Taapsee Pannu, Priyanshu Painyuli and Abhishek Banerjee starrrer Rashmi Rocket's trailer will give you a ride inside the cruel world of gender identification system that shatters the dreams of millions of athletes.
The team released the trailer on September 23 virtually. The epic sports drama narrates the story of a girl named Rashmi, a born talent; winning several medals for her country until she finds herself stuck in a situation like never before that breaks her morale down.
Tapsee Pannu plays a runner in the film while Painyuli is her husband. Taapsee is a small-town girl in the movie who has big dreams for her country. She passionately works on herself to become an athlete and is true to her passion in life.
Also Read: Disha Patani to Susmita Sen to Kangana Ranaut: 9 Bollywood actors spotted in style (Pictures)
However, things soon take a nasty turn when she is asked to undergo a gender identification test. Rashmi gets disturbed and loses hope, but her mother, Supriya Pathak, urges her not to be 'kamjor'. Abhishek Banerjee plays the lawyer in the film who helps Pannu to file a court petition for human rights violations. Banerjee becomes Pannu's voice in the movie, fighting alongside for all the athletes who go through similar shameful experiences.
Will Rashmi (Taapsee Pannu) get back on her feet? Will her dream to win more medals for the country come true? Will she be looked at with respect and beyond her gender identification? The trailer will make you think about all these questions leaving you in a maze of thoughts.
Also Read: Sonam Kapoor's look in Alexander McQueen's exaggerated sleeve dress will take your breath away (Pictures)
Taapsee Pannu did rigorous training for her role in the film to adapt the perfect body language, vocabulary, and an athlete's posture. When asked, Taapsee feels that this was her most challenging role so far and that if audiences do not feel moved after watching the film, then there is something wrong with her choices of cinema. The film will release on October 15.
Watch the trailer here:
Last Updated Sep 23, 2021, 9:55 PM IST