Rakhi Sawant poses in front of a Bengaluru house saying she's in UK, trolled for faking location
Rakhi Sawant who a day ago put out a video on Instagram in front of a house which she claimed was gifted to her by her husband and was located in the UK was called out by her followers who said that the house was in Bengaluru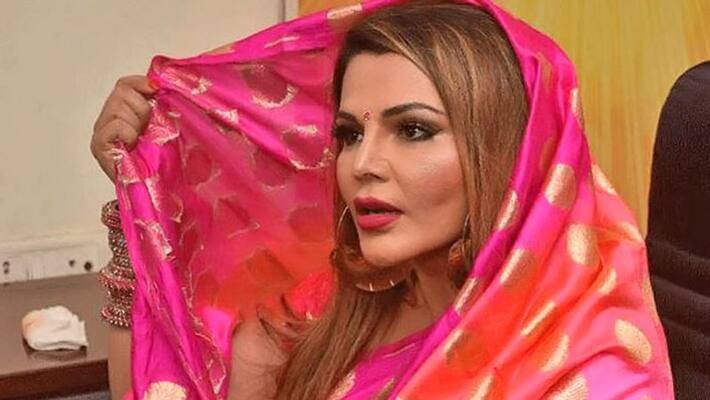 Bengaluru: Rakhi Sawant who apparently married a UK-based NRI Ritesh is now in the UK with her husband for her honeymoon, or so she said. Rakhi shared a video from outside a house, which she claims was given to her by her husband and is located in the UK. 

In the video, Rakhi is seen going gaga over the house and the neighbourhood. However, many social media users commented on the video saying that the location where Rakhi is standing is situated on Lavelle Road, Bengaluru. 
In the video, one can get a glimpse of an autorickshaw which her followers pointed out to her. 
But the big reveal came when fashion designer Aviva Bidapa, who is based in Bengaluru pointed out that the house belonged to a person whom she knows. Aviva Bidapa commented, "Guess who's outside your house @romaganeh." Roma is a Bengaluru based professional photographer. 
When we contacted Rakhi Sawant, she admitted to being in Bengaluru, and said that she is in Bengaluru for the housewarming ceremony of her house in Indiranagar and is looking to settle down in Bengaluru. She also plans to start an institute that teaches acting and dance.

A few days ago, Rakhi had shared several videos on her Instagram page in which she can be seen crying and asking her husband Ritesh not to ignore her.
In one of the videos, Rakhi was seen saying, "Jo bologe main karungi, jo bologe main karungi, par mujhe ignore mat karo. Aapko zara sa bhi taras nahi aata hai na mujhpar, main aapse bahut pyaar karti hoon." (I'll do whatever you ask, but please don't ignore me. You have no sympathy. I love you very much)
In another video, Rakhi says, "Ek aurat duniya ka bada se bada dukh jhel sakti hai, lekin tab jab uska pati uske saath ho." (A woman can cope with the world's biggest problem provided her husband is with her). 
Seems like there is trouble brewing in her marriage.
In an interview with MyNation, Rakhi spoke about her husband saying he works for Donald Trump, therefore cannot reveal his picture and details, "His name is Ritesh who is from the UK and works in Donald Trump's team. His photo can't be shown as it is their office protocol that their identity is not revealed," she said. 
Rakhi said she got married to Ritesh on July 28.
Last Updated Sep 27, 2019, 1:55 PM IST