Prakash Raj, Suriya get trolled for THIS scene in Jai Bhim; netizens call hypocrite
In one of the scenes actor Prakash Raj slaps a person who speaks in Hindi and tells him to speak in Tamil; check out social media reaction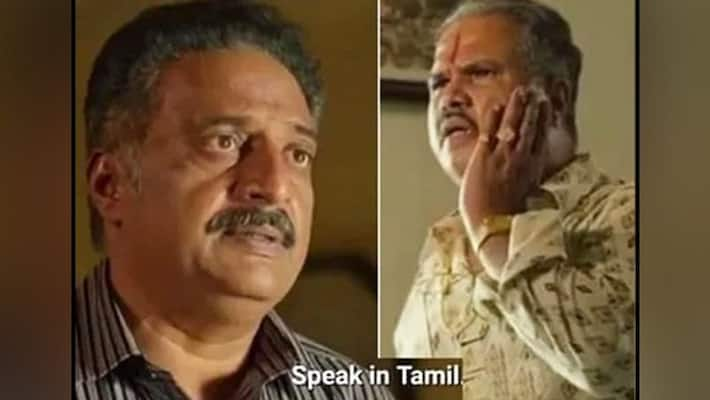 Tamil film Jai Bhim directed by TJ Gnanavel has been trending on Google and Twitter after a scene from the movie began doing the rounds on the social media platform. In the small video clip, we can see actor Prakash Raj, who is playing the role of a cop, slap a man for speaking in Hindi. Then later, Prakash asked the parson to talk in Tamil.
This particular scene didn't go well with the many social media users calling the leading actor Suriya and Prakash Raj hypocrites. The film is produced by Suriya and his wife Jyothika's 2D Entertainment. Suriya also plays the role of Advocate Chandru. 
Also Read: Exclusive: Tamil star Suriya talks about some fun memories on Jai Bhim's sets, advocate Chandru and more
Coming back to the viral scene from Jai Bhim, one social media user said "I am really heartbroken after watching #JaiBhim, nothing against actor or anyone but felt really bad, there is a scene in the film where a person speaks Hindi and Prakash Raj slaps him and tells him to speak in Tamil. Honestly, this kind of scene was not needed….Hope they cut it". 
Also Read: Suriya's Jai Bhim out: Here are 7 reasons why Advocate Chandru's story is a must-watch
Another called the actor-producer Suriya a hypocrite, "Actor Suriya's hypocrisy: Releases 'Jai Bhim' in Hindi, features scene where Prakash Raj slaps a north-Indian for speaking Hindi." 
A user also defended the scene and that it's not against Hindi-speaking Indians. "Hi, the scene is not against Hindi-speaking Indians. The particular character tries to get away by speaking in Hindi (so that Prakash Raj wouldn't understand) and knowing this strategy, he slaps and asks him to speak in Tamil.Tamil filmmakers are not against the language Hindi," read his tweet. 
One targeted Prakash Raj saying this, "Dear Prakash Rai alias Prakash Raj, which article of the constitution provides rights to hit any individual just because he's not speaking Hindi or any Indian language? If that's so, how many Kannadigas should hit u for speaking in Hindi, Tamil, Malayalam, Telugu in other movies?"
Last Updated Nov 3, 2021, 9:08 AM IST