Actress Poonam Pandey says that her newly launched app has been banned by Google.
She had promised the new app would have more 'bold' content.
Poonam was last seen doing a special appearance in Aa Gaya Hero, which starred Govinda.

The excitement of social media star, Poonam Pandey, seems to have been cut short after Google banned her app within hours after the launch on April 17. Naturally, she says she was disappointed after Google Play App Store suspended her app, allegedly over its adult content.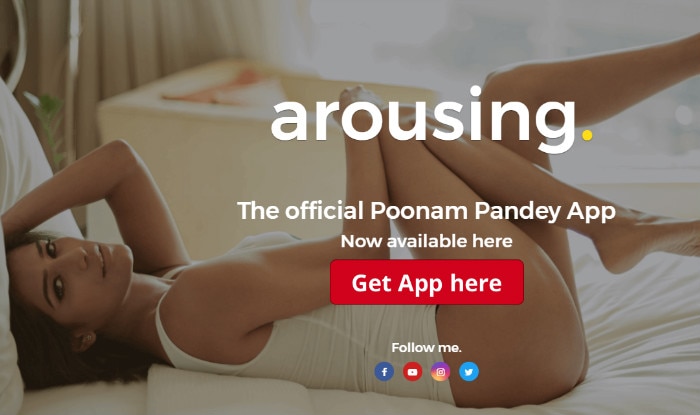 In an interview with a news agency, she said, "I don't know why. I see many adult magazines on Play Store and App Store. It's interesting that on the one hand, Google Play Store is suspending the app and on the other, some fans are 'complaining' that I am not even nude in the photos." 
However, Google India is yet to comment on the development. 
She had also tweeted: "Google has suspended the app, but Android users can directly download #ThePoonamPandeyApp from my website."
She also said, "I am very happy with the response as we got 15,000 downloads in less than 15 minutes." 
Poonam said her team had decided that till the time the issue is fixed, everyone could download the app from her official website www.poonampandey.in/download.
She said to her fans not to get disheartened. The issue will be resolved soon.
Poonam with the launch of her app joined the likes of Sachin Tendulkar, Alia Bhatt, Sonam Kapoor and Sunny Leone. She left no stones unturned in keeping the excitement level of her fans and followers high by teasing them with glimpses of her hot self in the app. 
The Poonam Pandey App has a lot on her introductory content page – about, my life, ask, photos, videos, behind the scenes, around the world, events, spin 360 videos, live!, shop, the store, top fans and biography. 
Have a look
Poonam was last seen doing a special appearance in Aa Gaya Hero, which starred Govinda. She had made headlines for promising to go topless if the Indian cricket team won the World Cup in 2011.