Phoenix Release Date: Aju Varghese horror drama movie to hit theatres on THIS date
A Malayalam horror drama movie starring Aju Varghese will hit theatres on November 17. The movie is directed by Vishnu Bharathan and the screenplay is done by Midhun Manuel Thomas.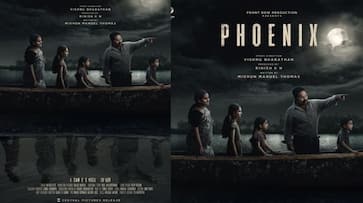 Malayalam actor Aju Varghese's starrer Phoenix will hit theatres on November 17. The movie is directed by director Vishnu Bharatan and the screenplay is done by Garudan fame Midhun Manuel Thomas.
The movie stars Aju Varghese, Anoop Menon, and Chanthu Nath in lead roles. It is reported that Aju will play the role of John, while Anoop Menon will play the role of a priest. Dr. Ronnie Raj, Aji John, Ajith Thalappilli, Asha Aravind, Nijila K Baby, Sini Abraham, Jess Swijn, Abram Rathish, and Avani are the other stars who are playing the role. 
The special premiere before the release will be held today. The first screening of the film will be at 6.30 pm at Edappally Vanitha Cineplex, Kochi. Although pre-release previews of films are held in Malayalam as well, The trailer of the movie was released on November 9.
The film featuring Aju Varghese unfolds the narrative of John and his family as they embark on a journey to a distant island village, aspiring to build a fresh start. However, their expectations take an unexpected twist with the arrival of a new member, triggering a series of chilling events. The movie revolves around how the family confronts these challenges, forming the core of the storyline.
The posters for the film have stirred curiosity among viewers, indicating an engaging plot. The two released posters exhibit inverted images, adding an intriguing element. Notably, these posters provide distinct perspectives when observed from both the top and bottom, adding an extra layer of interest to the promotional material.
Last Updated Nov 15, 2023, 2:07 PM IST