OMG 2 OTT release: Akshay Kumar, Pankaj Tripathi starrer to release online on THIS date
OMG 2," starring Akshay Kumar, Pankaj Tripathi, and Yami Gautam, a comedy-drama, is set to release on Netflix on October 8, following its successful theatrical run. It explores sex education in India and overcame censorship challenges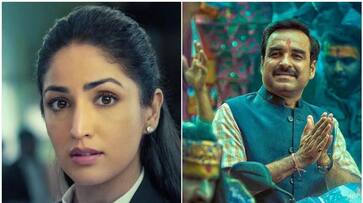 The highly anticipated comedy-drama "OMG 2," starring Akshay Kumar, Pankaj Tripathi, and Yami Gautam, received a warm critical reception upon its theatrical release in August. Notably, the film also enjoyed substantial success at the box office. Following its triumphant run in cinemas, "OMG 2" is now set to make its digital debut. Here are the details of its upcoming OTT release.
Amit Rai, the director behind this venture, has announced that "OMG 2" is gearing up for its OTT release on Sunday, October 8, exclusively on Netflix. After approximately two months of exclusively gracing the big screen, the film will be readily available for audiences to enjoy from the comfort of their homes. The OTT platform celebrated this exciting news by sharing the film's poster, along with a caption that exuded enthusiasm, saying, "We've got great news for you, and OMG can you tell we're 2 excited? #OMG2 arrives on 8 October on Netflix."
About "OMG 2":
"OMG 2" is a creative project written and directed by Amit Rai, serving as a spiritual sequel to the 2012 hit film, "OMG - Oh My God!" The star-studded cast includes Akshay Kumar, Pankaj Tripathi, Yami Gautam, Govind Namdev, Pavan Malhotra, and Arun Govil, among others. The film delves into the sensitive and crucial topic of sex education in India. Notably, "OMG 2" faced its share of challenges with censorship prior to its release. The Central Board of Film Certification (CBFC) recommended several edits and alterations to the storyline, ultimately awarding it an A (adult) certificate due to its bold theme. Despite tough competition, "OMG 2" triumphed at the box office and found its audience.
ALSO READ: Is Urfi Javed secretly engaged in Hindu rituals? Find out about the picture gone viral
What's Next for the Stars:
After "OMG 2," fans can look forward to seeing Akshay Kumar in the upcoming biographical drama, "Mission Raniganj," in which he stars alongside Parineeti Chopra. This film is scheduled to hit the screens on October 6. On the other hand, Pankaj Tripathi recently graced the screen in the comedy film "Fukrey 3" and is now set to portray former Indian Prime Minister Atal Bihari Vajpayee in the upcoming film "Main Atal Hoon." Additionally, he has commenced filming for the eagerly awaited second installment of the horror-comedy film "Stree," alongside Rajkummar Rao and Shraddha Kapoor.
Last Updated Oct 3, 2023, 1:00 PM IST