Not Rajinikanth or Amitabh Bachchan, Rajkumar's film was first to be remade in 6 languages in India
Kannada legend Rajkumar's films helped superstars like Rajinikanth and Chiranjeevi to stardom. These stars connected with the working class of the society by delivering hits that were actually remakes of Kannada movie Anuraaga Aralithu which showed the hardships of this section of the society.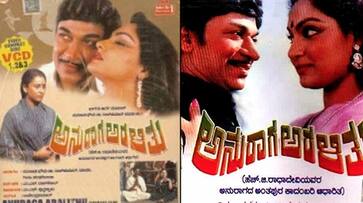 A film remade in six languages is a proud moment and people often think such movies belong to superstars like Amitabh Bachchan, Rajinikanth or Chiranjeevi. However, do you know which was the first movie in India to be made in six different languages? It's evergreen hero Rajkumar's Kannada movie - Anuraaga Aralithu - in 1986.
The film revolves around workers' struggle, an arrogant lady boss of the factory and an union leader.
Shankar played by Rajkumar is a happy go lucky person who works in Bombay but relocates to Nanjangud, Mysuru, to be with his mother during her holistic treatment after she suffers paralysis.
As he sets out to get a job at a factory, he encounters a situation where a person is being attacked. He rescues and later gets to know it from the same owner he was going to meet for the job. Based on the recommendation from the rescued person, he lands up with the job despite Asha Devi's (daughter of the owner) apprehensions.
As the movie progresses, he wins over his co-workers with his humbleness and becomes the union leader.
Due to jealousy and ego, in a plan to subjugate the voices and dismantle the union, Asha Devi hatches a plan to marry him. Shankar rejects her proposal but she reaches out to his ailing mother and convinces her to get Shankar married to her.  During a strike called by the union, Asha Devi's idea backfires as Shankar refuses to budge and calls off the protest.
This emotional drama was a huge hit among audiences and had a successful run in the theatres for 50 weeks. Later, the movie was made in Tamil starring superstar Rajinikanth titled Mannan. Rajini mania steamrolled all the films in 1992. Rajinikanth and Vijayashanthi's chemistry was considered better than the original as Thalaivar pulled it off in style. The same year, the film was released in Telugu as Gharana Mogudu starring Chiranjeevi and Nagma. The Telugu version went on to become a huge hit. Two years later, it was made into a Bollywood film titled Laadla starring Anil Kapoor and Sridevi.
Later, the film was remade in Bengali as Jamaibabu Jindabad in 2001. A year later, Odia film industry made the film with the title Sindhura Nuhien Khela Ghara. As the concept connected Bangladeshi audience with Jamaibabu Jindabad, Bangladeshi Bengali industry also remade the movie with the title Shami Strir Juddho. With this, Anuraaga Aralithu became the first Indian film to be made in six languages.
Last Updated May 7, 2020, 4:45 PM IST