National Best Friends Day: 7 Iconic on-screen buddies that raised bar for friendship
On this Best Friends Day, here are 7 cult and fan-favourite fictional friendships that have set high standards - By Mahalekshmi.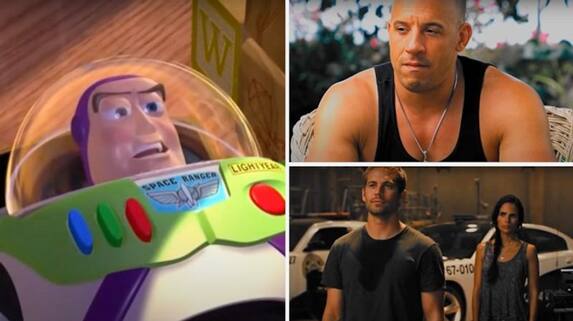 Like every other aspect of life, the on-screen portrayal of best bussies is something that the audience emulates. It has given birth to several friendships being iconic and influential. From 'Clueless' to 'Bill and Ted', several characters on-screen have become so popular for the relationship they share.
Though it is really not easy and so tough to narrow down besties across movies and tv shows, here are 7 iconic friendships that shall remain etched in our hearts.
ALSO READ: Arnold Schwarzenegger shares painful memory of revealing his 'extra-marital affair' to Maria Shriver
1. Maverick and Goose (Top Gun):
The epitome of bro-love, they tackle life-or-death situations as Navy pilots and their impeccable trust in each other forges their bond. Getting into bidding wars, in-fights, volleyball games and even with Goose being Maverick's wingman for the ladies, This friendship shall warm your heart and maybe even tear you up.
2. Harry, Ron, and Hermione (Harry Potter series):
Who better than to get in trouble than this trio right here. Setting the highest standards of friendships, this trio is first thing to come to mind when you think of best friends. Across dangerous events in the magical world, they have overcome many barriers, protecting, helping, and saving each other from, let us just say, death.
3. Joey and Chandler (Friends):
But we can all agree that this duo beats them all to be best friends on the show. They have immense fun together. Joey and Chandler stand together against all odds, being the recliner-loving, joking, mocking duck and chick owners.
4. Timon and Pumbaa (The Lion King):
This duo taught us the motto of a healthy life. By making us laugh our hearts out, their differences bring them together, standing by each other no matter what. Be it Pumbaa's flatulence or the decision to adopt a lion cub. They were in it together.
5. The Barden Bellas (Pitch Perfect):
Apart from Thelma and Louise, there have not been many movies known for female friendships instead of the plot. And that is when Pitch Perfect comes into the scene. Bringing the acapella group Barden Bellas, the bond these girls share became the core of the film. Of course, their singing is iconic too.
6. Dom Toretto and Brian O'Conner (Fast & Furious):
This list would be incomplete without this duo. Over six movies, the relationship between Dom and Brian brought about one of the saddest movie moments. The real-life relationship between Paul Walker and Vin Diesel was critical to forging the on-screen bond. Walker's death and the subsequent film featuring them to 'See You Again' was a heartbreaker for fans.
7. Woody and Buzz (Toy Story):
They are another duo whose differences bring them together. Through thick and thin, they never leave each other's side and have sworn to go to infinity and beyond. Their bond is the heart of the story. Their adventures make this grow stronger. Pixar has achieved the best with this animated journey. This duo is a testament to the same.
ALSO READ: National Best Friends Day: From Deepika-Ranbir to Ananya-Sara- 7 B'town besties setting 'friendship' goals
Last Updated Jun 8, 2023, 5:29 PM IST