Mark Antony REVIEW: Is Vishal, SJ Suryah's action drama worth watching? Read THIS
Mark Antony Twitter Review: The Kollywood movie is directed by Adhik Ravichandran, and features Vishal, SJ Suryah, and Ritu Varma. Mark Antony is a Time Machine Gangster movie released worldwide today (September 15).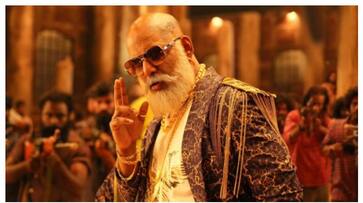 Adhik Ravichandran's Mark Antony is a Time Machine Gangster film starring Vishal, SJ Suryah, Ritu Varma, Sunil, Selvaraghavan, Abhinaya, and others. The film is being released in theatres globally today (September 15). While actor Vishal has had a string of box office disasters, his supporters feel that the film Mark Antony would redeem him with a massive smash. On the other side, many internet users mock filmmaker Adhik Ravichandran by comparing Mark Antony to his past works, Trisha Illana Nayanthara, Anbanavan Asaradhavan Adangadhavan, and Bagheera.
The leading actors play both father and son in the film. The theatrical trailer for the film generated enough hype ahead of its release. Adhik Ravichandran's comic action drama, co-written and directed by him, would be released in Telugu (dubbing) on the same day.
Also Read: 'Takeshi's Castle' to air with 'Titu Mama' aka Bhuvan Bam as presenter
The film is set in the past and is described as an action-comedy. It follows the adventures of two crooks, Mark and Antony. They obtain a time-travelling mobile phone. In the film, Vishal and SJ Suryah played dual roles.
However, there is speculation on social media that the Chandramukhi 2 film team, intimidated by Mark Antony's spectacular trailer, have postponed the film's release date, afraid that if they release the picture now, their box office collection will suffer. Check back here for more intriguing Twitter reviews of the film Mark Antony:
Adhik Ravichandran has gone one step further this time, attempting to invite actress Silk Smitha for a specific scene in the period segment of Mark Antony's film to draw an audience. The film crew has previously shown a preview of the Silk Smitha sequence in the teaser.
Also Read: Kiran Rao finally talks about divorce with her ex-husband Aamir Khan
Vishal had a darshan at Tirupati yesterday ahead of the Mark Antony film's release today. His Tirupati images are going viral on social media. Lyca has launched a lawsuit to have the film Mark Antony banned. Vishal then came in court and explained, and the judge ruled that the film be released as planned.
Last Updated Sep 15, 2023, 9:02 AM IST