Kiran Rao finally talks about divorce with her ex-husband Aamir Khan
Kiran Rao, noted filmmaker and ex-wife of Aamir Khan, has a strong bond with 'Laal Singh Chaddha' star Aamir even after their divorce. The duo continue being great friends and co-parent their children.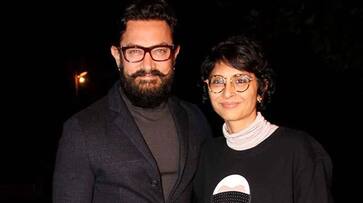 Kiran Rao has opened up about her divorce with Aamir Khan. In a recent interview, the filmmaker talked about making a film about marriage - Laapataa Ladies when her relationship with Aamir was falling apart. Kiran and Aamir, who tied the knot in 2005, parted ways in 2021. Speaking to a leading Indian entertainment portal in her new interview, Kiran Rao called Aamir Khan a 'great support' and shared that she would not have been able to finish it without Aamir Khan and his help. Kiran said, "He is such a great support. We would not have this film without it because he found the script and offered it to me to direct, which was incredibly lucky for me."
ALSO READ: Video: Rashmika Mandanna shares her gym workout insight; actress crushes leg day
Kiran Rao further clarified that she did not have trauma in her previous relationships. She added, "A lot of the issues we have tackled (in the film). In a way, we all have experienced. I have been very fortunate because all my relationships have never had trauma. I have had very loving relationships and continue to have them. The idea was to show how, within the constructs of marriage, within socially normative relationships, you can still find your freedom, you can still find who you are, and you can reach for something that fulfils your potential. I have experienced that myself."
Kiran also shared that she shares a 'wonderful relationship' with Aamir Khan and mentioned that he always supports her. "I continue to have a wonderful relationship with my producer and ex-husband. I continue to be supported by my family and Aamir. So I feel that it is possible. This film wants to convey that and not make you throw out the baby with the bathwater. Society and relationships are important to all of us."
ALSO READ: Vicky Kaushal spills the beans about planning a baby with Katrina Kaif; here's what he said
Last Updated Sep 14, 2023, 4:35 PM IST