Mammootty starrer Valliettan to re-release in 4K Atmos
The megastar Mammootty movie Valliettan is set to re-release in 4K. The movie was directed by Ranjith Earlier, the movie Spadikam starring Mohanlal was the first Malayalam film released in 4K.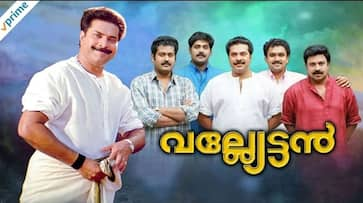 One of the biggest blockbusters of Mammootty's career, the movie Valliettan, is ready to re- release for its fans in 4K Atmos. "Valliettan" is a popular Malayalam film released in 2000, starring Mammootty in the lead role. The film was directed by Shaji Kailas and written by Ranjith. The movie was produced by  Anil Ambalakkara and Baiju Ambalakkara.  Earlier, "Spadikam," directed by Bhadran and starring Mohanlal, marked the first Malayalam film released in 4K. 
The movie also features Shobana and Manoj K. Jayan in the lead roles. The producer, Baiju Ambalakkara, has informed about the update about the re-release of this movie. He said that when Spadikam was released, it was a wonderful experience. So, thus, we decided to re-release Valliettan as well in 4K.
His statements " I absolutely loved the 4K release of the movie 'Spadikam'. I also went to the theatre and watched the movie. The current new generation has not seen this movie in theaters, they have all seen it on TV. It was a very nice experience to watch in 4K Atmos. Similarly, I have decided to do the film Valliettan 4K. The work will start immediately. Many of Valliettan's scenes have been stolen on YouTube. Unknowingly, I gave false signatures and gave rights. Currently, the entire film is being put on hold. Valliettan bought a stay from the court so that no one in the film world would touch the movie again. There are a few more things to do. After that, the movie will be available to see in 4K. The longer it goes, the better. Because the new generation is growing up. We are going to do it for them. Shaji Kailas and I watched the movie at Savita Theater in Ernakulam in 4K Atmos. There is nothing to say about Mammookka's beauty. Anyway, Valliettan will soon be available in 4K. 
The other crew includes Cinematography by Ravi Varman, Editing by L. Bhoominathan, Music by Rajamani and Mohan Sitara, and is produced under the banner of  Ambalakkara Films. The film is distributed by Amma Arts, Sagar Movies, and Rajashree Pictures
Last Updated Nov 9, 2023, 9:27 AM IST